Bangladesh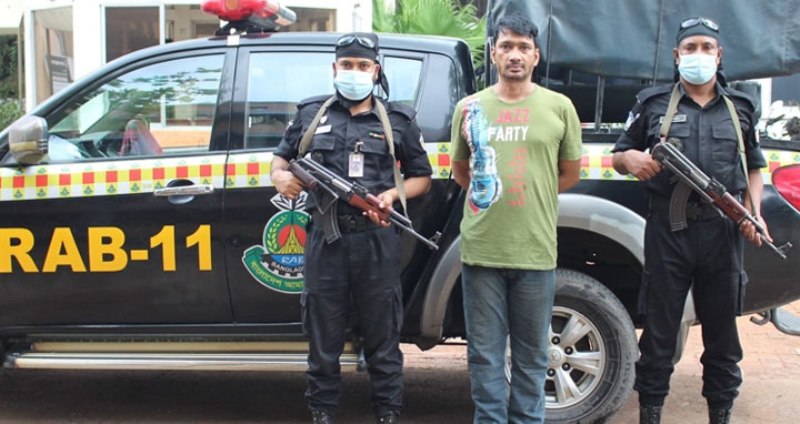 Collected
Narayanganj's top terrorist former Chhatra Dal leader Zakir arrested
Dhaka, September 3: Narayanganj district Chhatra Dal former president and police-listed top terrorist Zakir Khan was arrested with a foreign pistol by the Rapid Action Battalion (RAB). In a press release on Saturday (September 3), RAB-11 captain Lt. Colonel Tanveer Mahmud Pasha.
According to RAB, one time top terrorist of Narayanganj, underworld godfather with absolute power and widely discussed name among common people is Zakir Khan. He has numerous cases under his name, including four murders, and has spent time in jail in these cases. After his release from prison, he became even more violent. During this time, he built a huge terrorist force and drug empire in Deobogh area of ​​Narayanganj.
At one point, Dayal Masud, another top terrorist of the Deobogh area, was publicly shot dead behind Sonarbangla Market in the city and became known as the terror of the city. After Sabbir Alam's murder in 2003, he left the country and moved to Thailand. At that time, when Zakir Khan was found guilty in various cases, the court sentenced him. Since then, Zakir Khan was staying outside the country to avoid arrest.
In a special operation of RAB-11 in Narayanganj on Friday night, Zakir Khan, the top terrorist of Narayanganj and one of the accused in Sabbir's murder case, was arrested from Bashundhara area of ​​Bhatara police station of DMP Dhaka along with a foreign pistol.
Preliminary investigation and interrogation of the accused revealed that a case was registered against the accused Zakir Khan in 1994 under the Special Prevention of Terrorist Offenses Act. Accused Zakir Khan was sentenced to 17 years in that case. Although his sentence was later reduced to eight years by the High Court, he remained on the run for nearly 21 years in the country and abroad to avoid arrest. Originally, he went into hiding when he was accused in the Sabbir Alam murder case in 2003.
During interrogation, it was revealed that he was hiding in Thailand for a long time and recently came to Bangladesh via India. Since then he was hiding his identity and living with his family in Bashundhara residential area of ​​Dhaka. RAB said further legal action against the arrested Zakir Khan is under process.