Bangladesh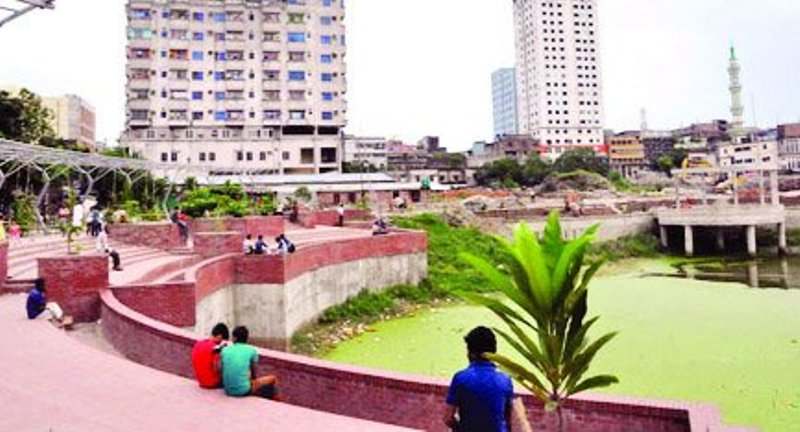 Collected
Narayanganj to get lake modelled after Dhaka's Hatirjheel
Dhaka, November 30: Narayanganj City Corporation has informed that DND lake is being constructed in Siddhirganj in the style of Hatirjheel of the capital. Six beautiful bridges are being built to beautify the lake. There will be a stage with it. Walkways will be built alongside the bridge.
Narayanganj district adjacent to the capital has a relatively large number of industrial establishments. One of them is Adamji EPZ of Siddhirganj.
According to the Bangladesh Export Processing Zones Authority (BEPZA), 82,200 workers work in the EPZ in Narayanganj.
Due to which people from different regions are living in Siddhirganj to work in these industrial establishments in search of livelihood.
For these industries, dense settlements have developed in Siddhirganj. Therefore, Siddhirganj under Narayanganj City Corporation has become an unplanned area.
Siddhirganj has lost its beauty over time as it is a densely populated area. And Narayanganj City Corporation is working to beautify this area.
Narayanganj City Corporation is spending hundreds of crores of rupees in two parts to implement the project.
The main canal of DND is being re-excavated and a walkway is being constructed on the west side of the canal from Bhangarpul in Ward 8 of Narayanganj City Corporation to Galakata Bridge in Shimrail. The contractor Messrs. Udayan Builders is implementing the project under the supervision of Narayanganj City Corporation with JICA funding.
Narayanganj City Corporation Mayor Selina Hayat Ivy inaugurated the project on February 11 and May 3, 2019 in two phases.
Initially, the project was scheduled to take 15 months to complete. Although the work was supposed to be completed by December 2020, the time has been extended due to the impact of the epidemic.
After a three-month hiatus due to Corona's influence, the new venture has resumed. Under the City Governance Project (CGP), Tk 63.48 crore has been earmarked for beautification of 5 and a half km DND canal from Galakata pool in ward 3 of the city corporation to Bhangar pool in ward 8 and construction of six bridges over the canal at a cost of Tk 35.84 crore.
In which three loaded and three footover bridges will be constructed in the style of Hatirjheel of Dhaka. If the project is implemented, this lake of DND will be developed as one of the recreation centers of Siddhirganj.