Bangladesh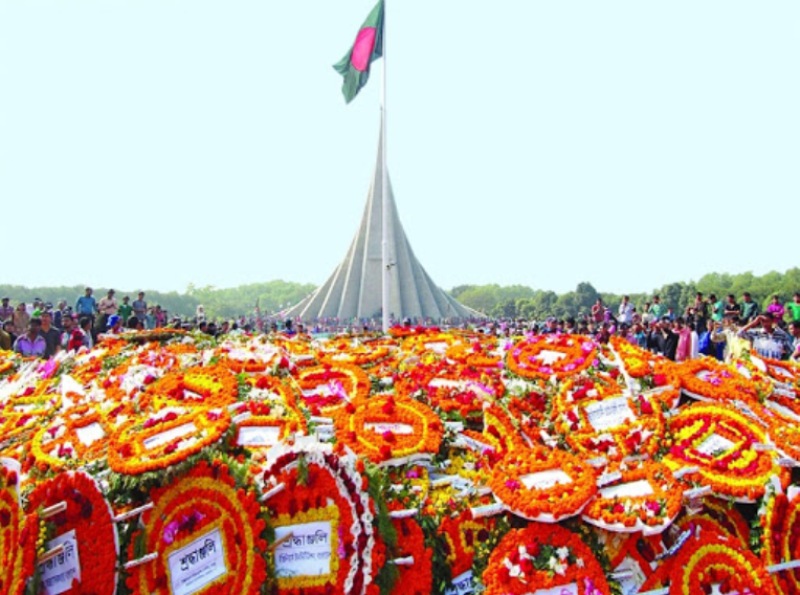 Collected
Nation pledge to resist fundamentalism-communalism on Victory Day
Dhaka, December 17: The 50th anniversary of Victory Day was celebrated all over the country, including the capital Dhaka, on Wednesday with a pledge to fight fundamentalism and communalism in the spirit of the war of liberation.
In the morning, flowers were laid at Savar National Memorial to pay homage to the best children of the nation. The nation celebrates the day with a different feeling by expressing grief and pledging to repay the blood debt.
Various public and private programs were taken up on the occasion of the day. The Victory Day program began with 31 rounds of artillery fire at the National Parade Ground in the morning.
The next year, the President and the Prime Minister visited Savar on Victory Day and paid homage at the National Memorial. But due to the coronavirus epidemic, this year's Victory Day program, like other state programs, should be limited.
Standing in front of the golden jubilee of independence on the centenary of the birth of Father of the Nation Bangabandhu Sheikh Mujibur Rahman, this year's victory celebration was supposed to be celebrated on a large scale but all kinds of programs were shortened due to Corona. Therefore, the scope of the festival has been limited, there are other programs, the government has emphasized on following the rules of hygiene in participating in them.
The Awami League hoisted the national and party flags at the party's central office, Bangabandhu Bhaban and offices of organizations across the country at sunrise in the morning. At 9 am, senior leaders of the party led by Awami League General Secretary and Road Transport Minister Obaidul Quader paid homage to Bir Shahid at the National Memorial.
The 14 central parties, the children of the martyred families and the war-wounded freedom fighters paid their respects to each other. BNP, Gono Forum, United Front, Jatiya Samajtantrik Dal, Workers Party of Bangladesh, Dhaka Reporters Unity, Communist Party of Bangladesh-CPB paid their respects to the martyrs at the National Memorial.
Later, on the occasion of the Great Victory Day, the Awami League paid homage to the portrait of Father of the Nation Bangabandhu Sheikh Mujibur Rahman in front of Bangabandhu Bhaban No. 32 in Dhanmondi.
Special prayers and supplications were held at mosques, temples, churches, pagodas and other places of worship seeking peace of soul of the martyrs, peace, prosperity and progress of the nation. High quality food is served in hospitals, prisons, old age homes, orphanages, children's families and nomadic institutions.