Bangladesh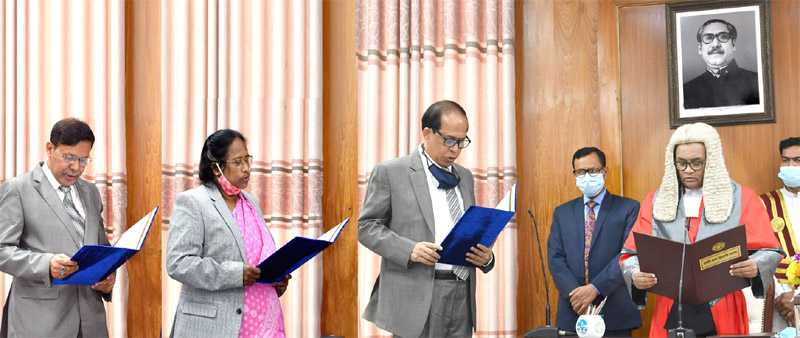 PID
New EC takes oath
Dhaka, February 26, 2022: Newly appointed CEC Kazi Habibul Awal and four other Election Commissioners have been sworn in.
Chief Justice Hasan Fayez Siddiqui administered oath to five election commissioners.
The oath-taking ceremony was conducted by the Registrar General of the Supreme Court Mohammad Ali Akbar. The swearing-in ceremony was held at the Judges Lounge of the Supreme Court on Sunday (February 26) afternoon. Judges of the Appellate Division were present on the occasion. There were also officials from the Supreme Court and the Election Commission.
They will start their duties at the Election Commission building from tomorrow (Monday). They will be welcomed there in the morning. The journalists are scheduled to be briefed at 1 pm.
A new election commission headed by retired senior secretary Kazi Habibul Awal was formed on Sunday (February 28th). Among the four other commissioners in the new commission headed by him are retired District and Sessions Judge Begum Rashida Sultana, retired Brigadier General Ahsan Habib Khan, retired senior secretary Md. Alamgir and Anisur Rahman.

For the first time, the Election Commission (EC) has been formed in accordance with the law. A notification in this regard has been issued by the Cabinet Division. It is mentioned in the notification of the Cabinet Division that the President has made this appointment with the power given in Article 116 (1) of the Constitution.

A six-member search committee headed by Justice Obaidul Hasan of the Appellate Division of the Supreme Court was constituted under the Chief Election Commissioner and Other Election Commissioners Appointment Act, 2022 and a notification was issued by the Cabinet on February 5. According to the law, the committee is given 15 working days to submit recommendations to the President. The Cabinet Division provides secretarial assistance to the Search Committee.

In addition to naming names from registered political parties and individuals, the search committee met with eminent persons to form a new election commission. The committee finalized the names of 10 people in its meeting on Tuesday (February 22). Of the 13 CECs appointed so far, seven are judges. The other six are former bureaucrats.

The new election commissioner. Alamgir has retired after serving in the Election Commission as the last senior secretary. The new Election Commission conducts all national and local level elections for the next five years after taking oath. The term of KM Nurul Huda Commission ended on February 14.