Bangladesh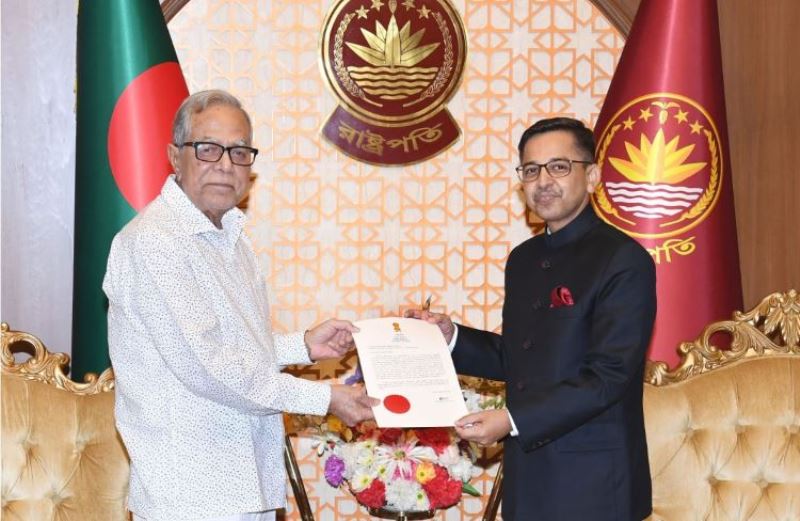 Photo: PID
New Indian High Commissioner presents identity card to President
Own Correspondent, Dhaka, Oct 28: Newly appointed High Commissioner of India to Bangladesh, Pranay Verma, presented his identity card to President Md. Abdul Hamid.
He met the President at Bangabhaban on Thursday evening and presented his identity card.
President's Press Secretary Md. Joynal Abedin said, "While welcoming the new High Commissioner of India, the President said that India is a tested friend of Bangladesh. Thanking the government and people of India for their cooperation in the Great War of Liberation in 1971, President Md. Abdul Hamid said that since then the bilateral relations between Bangladesh and India have been gradually expanding in various fields."
The President expressed hope that the existing relations between the two countries will reach new heights during the tenure of the new High Commissioner of India.
He said, in the current context, international cooperation is very important to deal with the situation caused by global problems, especially the corona epidemic and the Russia-Ukraine war.
President Abdul Hamid expressed hope that Bangladesh and India would cooperate in various fields to overcome this situation. During the meeting, the new High Commissioner of India said that his country attaches importance to increasing cooperation and developing relations with Bangladesh. He sought the full cooperation of the President during his duties in Bangladesh.
President's Office Secretary Wahad Barua, Military Secretary Major General SM Salahuddin Islam, and Secretary (Joint) Md. Wahidul Islam Khan were present on the occasion.
Earlier, the new High Commissioner of India assigned to Bangladesh, Pranay Kumar Verma, paid deep respect to Father of the Nation Bangabandhu Sheikh Mujibur Rahman by placing wreaths at his portrait at Bangabandhu Memorial Museum at Dhanmondi No. 32. The new High Commissioner toured the various corners of the museum and signed the visitor's book there.