Bangladesh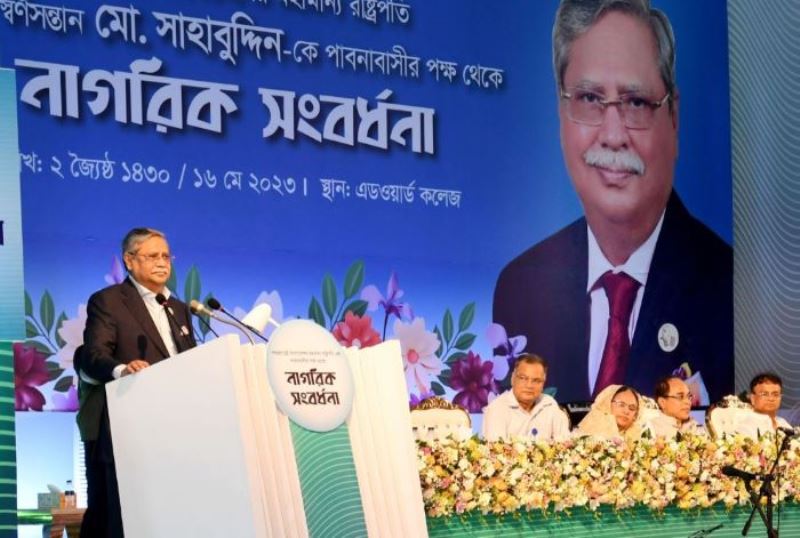 Photo: PID
Next election is important for survival of democracy: President
Dhaka, May 17: President Md. Shahabuddin mentioned that the next national parliament election is important for the existence of democracy.
He said, everything must be judged by the necessity of existence. The people should choose their representatives with conscience in the elections. What this government has done for the country in the last 14 years should be kept in consideration.
The 22nd President of the country said these words at the civil reception at the Government Edward College ground in Pabna on Tuesday afternoon.
Mentioning that the constitution of Bangladesh has been wounded many times, President Md. Shahabuddin said that an attempt has been made to introduce the constitution in Pakistani style. This was done after the assassination of Bangabandhu. Secularism and democracy have been killed. Later, the people stood up. Finally the people chose the leadership of Sheikh Hasina.
The President said that the development that has been going on in the country for the last 14 years should be continued. He said, democratic values should be retained.
Pointing out that poverty has reduced in the country, the President said, electricity production has increased, literacy rate has increased. People's quality of life has improved. There is no mourning in the country now. The President recalled his role in refuting World Bank's corruption allegations regarding the construction of Padma Bridge.
He said that he played a strong role in this field during his tenure as the director of the ACC. He describes how he kept the country's image bright.