Bangladesh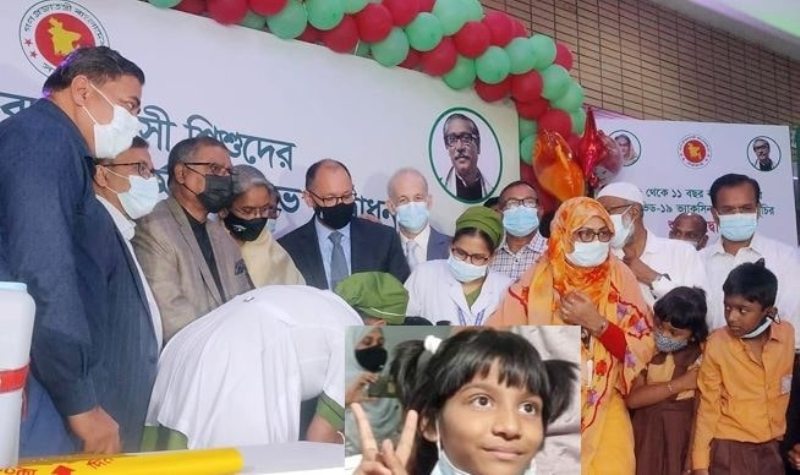 Collected
Nidhi Nandini becomes first child to receive vaccination in Bangladesh
Dhaka, August 11: Nidhi Nandini, a third class student of Abul Bashar Government Primary School, took the first dose of coronavirus vaccine among children aged 5 to 11 years. The student received the first vaccination in the presence of guests after the inauguration ceremony of the corona vaccination program for children aged five to 11 years at the Bangabandhu International Conference Center (BICC) on Thursday (August 11).
Then one by one other students took the vaccine. The vaccinated students are - Class II Soumya Dwip Das, Class IV Md. Abu Sayem Fahim, Class V Bikash Kumar Sarkar, Class III Saimun Siddique, Class III Md. Arafat Sheikh, Akib Ahmed Sion, Class IV students Mahmud Hossain and Al-Amin. .
Shamima Siddiqa Tasin of Class III, Rupa Akhtar, Humaira Afrin Tamanna, Taslima Akhtar of Class IV, Sanjida Akhtar, Mosammat Nusrat Jahan Arin and Heera Akhtar of Class I also received vaccination.
Shyamoli Rani Malakar, head teacher of Abul Basha Primary School said, "I am very happy that our school was selected to give the first vaccine. 16 students from class I to class V have come for vaccination. They are very strong minded. They will not be afraid to get vaccinated."
"Children are not following social distancing. They need the corona vaccine the most. They stay together while eating, drinking and playing. Coronavirus vaccine will be most beneficial for them."
Director of the program, Shamshul Haque, said that Bangladesh currently has 30 lakh Pfizer coronavirus vaccines specially prepared for children. Another 70 lakh vaccines will reach us by the 28th of this month. We will not bring too many corona vaccines together. Vaccination will be brought according to the demand of vaccination. Next, the first dose of vaccination of children will start from August 25. A second dose will be given after two months.