Bangladesh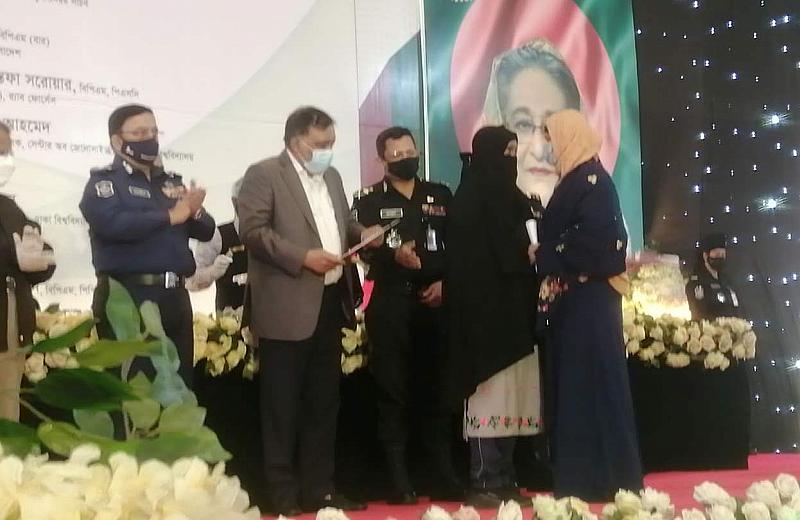 Collected
Nine give up militancy, return to normal life
Dhaka, January 14: Nine active members of various militant organizations in the country have surrendered. They surrendered to Home Minister Asaduzzaman Khan Kamal and Inspector General of Police (IGP) Benazir Ahmed at RAB headquarters on Thursday (January 14) morning. Meanwhile, the Home Minister and the IGP handed over the militants to their families.
The RAB said that like other countries in the world, they have worked to bring the militants back from militancy by de-radicalizing them in the right process.
Their extremist ideology has been destroyed through long-term counseling.
The surrendered militant members include six members of the JMB and three members of Ansar al-Islam.
The surrendered militants are- Shaon Muntaha Ibn Shawkat (34), Dr. Nusrat Ali Juhi (29), Asma alias Ramisa (18), Mohammad Hossain Hasan Gazi (23), Md. Saifullah (37), Md. Saiful Islam (31), Md. Abdullah Al Mamun (26) Md. Saidur Rahman (22) and Abdur Rahman Sohel (28).
According to RAB, Shawn Muntaha Ibn Shawkat joined Hizb ut-Tahrir while studying at a public university in Sylhet. He later moved to the top level in the university branch of Hizb ut-Tahrir. He joined Ansar al-Islam in 2009. Later in 2011 he married the medical student Dr. Nusrat. Later he moved to Dhaka under the direction of the organization. He started living in Dhaka in 2017 with his wife and two children. He kept moving to different places in Dhaka for fear of being arrested in a joint operation by the law enforcement agencies.
According to RAB about Abida Jannat Asma alias Ramisa (18), after being attracted to extremism, she married a member of Ansar Al Islam in 2018 without informing her parents. The life of hiding with her husband began. As a child of a financially well-off family, she secretly became disgusted with the roving life. As a result, she expressed her desire to return to normal life to her organizationally known relatives.
At the surrender of the militants, Home Minister Asaduzzaman Khan Kamal said, "The people of Bangladesh never give shelter to militancy. That is why we have come a long way in combating militancy. We have been able to control it even though we have not been able to eradicate it. I suppress the militants with a firm hand. We are bringing them back to normal life with the opportunity to surrender."