Bangladesh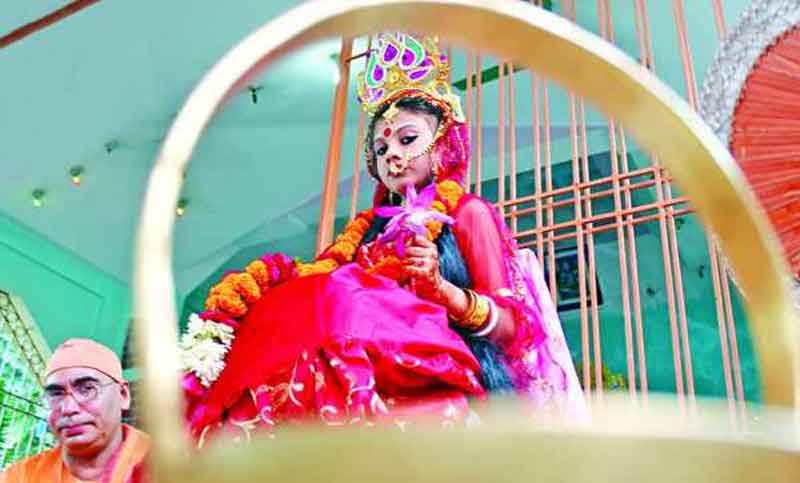 File Picture
No Kumari Puja in Dhaka this time during Durga Puja
Dhaka, October 17: Due to the coronavirus panemic, no Kumari Puja will be held in any mandapa in Dhaka this time. Milon Kanti Dutta, president of Bangladesh Puja Udjapan Parishad, said this at a discussion and exchange of views on various aspects of Durga Puja at Dhakeswari Mandir on Saturday.
He said, "Considering the Corona infection situation, Kumari Puja will not be celebrated in any mandapa in Dhaka this year. However, Kumari Puja may be held in some places outside Dhaka."
Various religious ceremonies are being shortened this year to prevent coronavirus infection due to the epidemic. He said there were no reports of idols being broken except in one or two places this year.
Nirmal Kumar Chatterjee, general secretary of the Bangladesh Puja Celebration Council, said, "Due to Coronavirus, this time the festival-related issues should be avoided and limited to simple puja."
This time Mahalaya was on 17th September.
But as per the calendar, this time Ashwin month is 'Mal month', which means bad month, that is why this time it will be held in the month of Kartik.
According to the calendar, Bodhan will be on 22nd October and the main ritual of Durgotsab will start the next day through Saptami Puja.
The formality of Durga Puja will end on Mahadashami (26th October).
On August 26, the Puja Udjapan Parishad gave 26-point guidelines on how to perform puja in accordance with the health rules.
Later, in the light of the decision of the puja-centric meeting chaired by the Home Minister on October 4, additional 7-point instructions have been given.
Following the instructions, this time there will be no different cultural arrangements for the puja.
Organisers have been instructed to take the help of Facebook Live during Anjali.
Nirmal said, "No more than 25 to 50 people can come to the places where Anjali will be held directly. I have instructed to close the puja mandapa by 9 pm after the evening aarti."
The Bangladesh Puja Udjapan Parishad had earlier banned the distribution of prasad and Vijaya Dashmi procession during Durga Puja.
Nirmal Chatterjee said, "We will pray that the world gets rid of the coronavirus during our Sampami prayers."