Bangladesh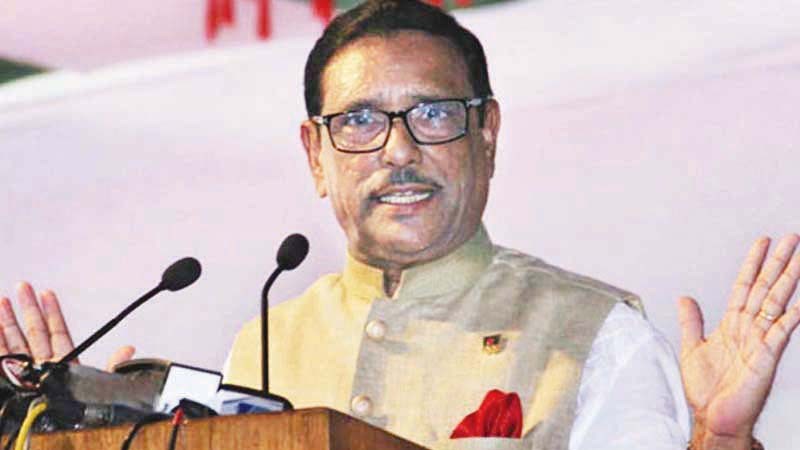 File Picture
No need of creating interim issue in the name of interim parliamentary elections: Quader
Dhaka, October 17: Awami League General Secretary and Minister for Road Transport and Bridges Obaidul Quader has said, that there is no need of creating interim issue in the name of interim parliamentary elections. He said the elections will be held in time and the people will decide who will form the next government.
He was speaking at a discussion organized by Dhaka Mass Transit Company Limited (DMTCL) on the occasion of Bangabandhu's birth centenary on Saturday (October 17).
Obaidul Quader joined the event via video conference from his official residence.
He said, "BNP leaders have to wait until the next election if they want to come to power, if the people want you to form the government. Prime Minister Sheikh Hasina believes in the power of the people, she respects the independent opinion of the people."
He said, "The BNP has drowned the people of the country in a sea of ​​shame and despair by becoming world champions in corruption five times in a row."
"The Bangabandhu family is a unique example of honesty in the politics of this country," the minister said.
The general secretary of the Awami League alleged that an evil force was involved in various conspiracies to push the country backwards while the country was moving forward.
He said, "It is not unknown where the BNP is holding meetings at home and abroad and what conspiracies are going on. There is also news that processions are being held with money. Propaganda is being spread through social media, rumors are being created. They just want the fall of the government at any cost. All their mischievous attempts will fail."
Obaidul Quader said, "BNP is engaged in anti-democratic practices. They are indulging in negative politics. There is no question when they are winning the election, but, blames the Election Commission and the government when they are defeated. I urge them to get out of the negative practive and return to the positive."
The minister again called upon all to adhere to the hygiene norms.
"A lot of countries are going into lockdown again," he said. "The situation may deteriorate in our country as well. Doctors have warned. The Prime Minister has also warned. So everyone please be careful."