Bangladesh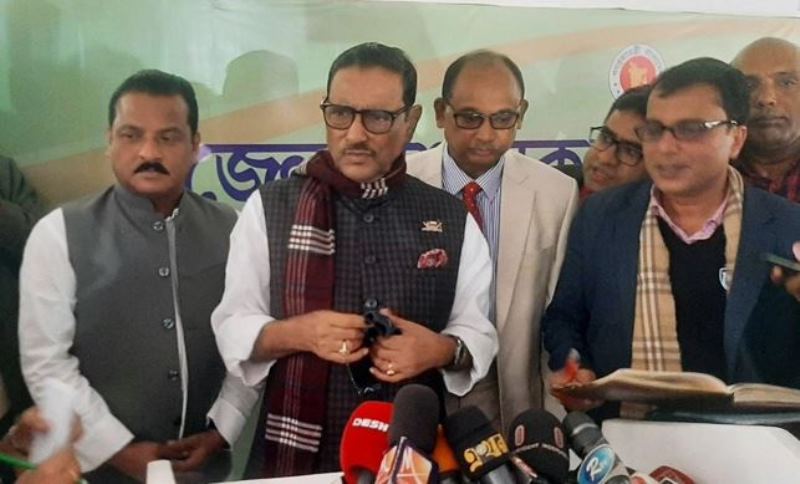 Photo: Collected
No new roads before elections: Quader
Dhaka, January 26: Road Transport and Bridges Minister Obaidul Quader has said that no new roads will be constructed anywhere in the country before the next national parliament elections.
He said, "I have informed the DCs that no new road will be constructed before the next election. We want to repair existing roads. Want to make it usable. Repairing those that are there is our first and foremost task."
Obaidul Quader said these things to reporters after the sixth session of the second day of the conference on Wednesday.
The Road Transport and Bridges Minister said that the DCs have been instructed to restore order on the roads and said, "Safe roads should be ensured by controlling the movement of small vehicles on the highways. We have brought 95 percent of motorcycles under control in Dhaka. Here the driver and the rider are wearing helmets. However, even though three people are traveling on a motorcycle in Mofswal, no one is wearing a helmet. These things have been ordered to be looked into."
Obaidul Quader said, "I often see that 10-12 people die in autorickshaw accidents. So many people may not die in any major accident. Currently, the accident rate has decreased, but the death rate has increased. For this, motorcycles, autorickshaws, nasimon, karimon, bhatabhati have been asked to be brought under control."
The minister said, "We are giving utmost importance to the issue of restoring order on the roads. Many roads have been built, many bridges have been built. Without discipline, these successes fade away. That is why I have emphasized discipline. DCs have been instructed to ensure this."
After that, Railway Minister Nurul Islam Sujan briefed. He said, "We want to connect the railway with all the districts of the country. There are two types of railway system in our country. One is broad-gauge, another is meter-gauge. We want to convert all broadband. The intersection point with India was closed in 1965. I want to activate them again. A new railway connection will be established according to the needs of the two countries."