Bangladesh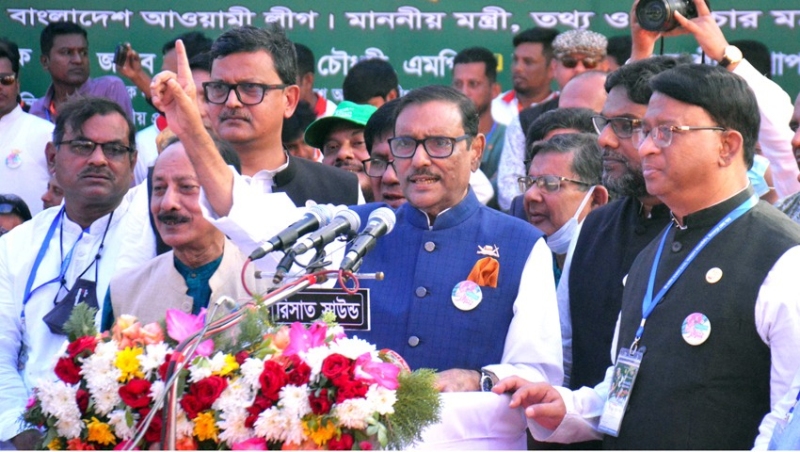 Collected
No one from Awami League will go near BNP rally: Quader
Dhaka, November 29: Awami League General Secretary and Road Transport and Bridges Minister Obaidul Quader said that none of the Awami League leaders and activists will go near the BNP's mass rally on December 10 in Dhaka. At the same time, he urged the BNP leaders not to create any kind of public trouble around the December 10 mass rally.
He said this while addressing the chief guest at Dinajpur district Awami League conference on Monday (November 28).
The 30th National Conference of Bangladesh Chhatra League, the fraternal organization of the ruling Awami League, will be held on December 6. Initially, the date for this conference was fixed on December 3. But later it was suspended on the orders of the Prime Minister. After that, the Chhatra League informed about the organization of this conference on December 8 and 9. But finally it was finalized on 6th December.
Obaidul Quader mentioned that the Central Conference of Chhatra League held from 8th to 6th is not the product of BNP's agitation, but it is the product of Sheikh Hasina's liberal morality.
Obaidul Quader said, "Elections like February 15 will not be allowed to be held in this country. There will be fair voting. Elections will be held in this country like other countries of the world."
He said, "Sheikh Hasina will perform routine duties during the elections. There will be an impartial vote at that time. All the responsibilities in the elections will be on the Election Commission. They will conduct the elections transparently."
Addressing the transport workers, the Awami League General Secretary said, "You will not call a transport strike before and after the BNP rally in Dhaka in December. But even then they (BNP) will take a stand three days in advance with utensils and mosquito coils."
Warning the BNP, he said, "Don't give any provocation during the fair election. There is news that if there is chaos, the leaders and workers of Awami League will resist you with the people of this country. The leaders and workers of Awami League have not left the field."
Obaidul Quader said to BNP Secretary General Mirza Fakhrul Islam Alamgir, "Your home is in Thakurgaon. Look at the assembly and council of Dinajpur district Awami League today. You say that there has been a wave in your rally. Come to Dinajpur today and see what the waves of the river and the sea are. You start the drama with utensils, bed-pillows 3 days before the assembly. Mosquito coils are part of that drama."