Bangladesh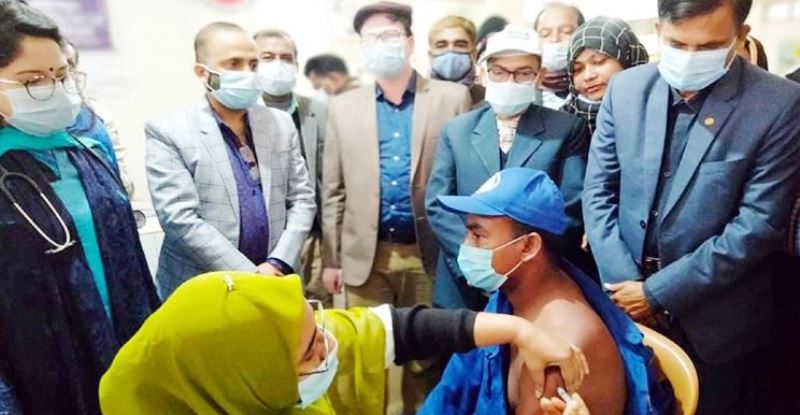 Collected
No one showed courage, village police official takes the first vaccine
Dhaka, February 8: Twenty-eight people applied for the vaccine online in the hope of getting protection from the coronavirus. Most of them are doctors and nurses. No one agreed to receive the vaccine for fear of the inaugural ceremony at Satkhira's Tala Upazila Health Complex on Sunday (February 7). Later, a village policeman came forward with courage.
According to the locals, according to the government circular, those involved in the activities of the health department should be vaccinated first. But no doctor or nurse of Tala Upazila Health Complex agreed to take the vaccine.
Later, the program was inaugurated by administering vaccine to the body of Aminur Sheikh, village police of ward 9 of Jalalpur Union Parishad. Aminur Sheikh, who was vaccinated, is the son of late Siraj Sheikh of Atulia village in Sheikh upazila.
Upazila Health and Family Planning Officer Dr. Rajib Sardar presided over the function and Upazila Nirbahi Officer Md. Tarif-ul-Hasan was present as the chief guest. Tala Upazila Parishad Chairman Ghosh Sanat Kumar, Vice Chairman Sardar Moshiar Mohaman, Murshid Parveen Papri and Officer-in-Charge (OC) of the police station Mohammad Mehedi Russell were present on the occasion.
At the end of the meeting, none of the 18 people of Tala Upazila who applied online for the vaccine were seen to be vaccinated. The list includes doctors and nurses at Tala Hospital, but none of them are interested in getting vaccinated. The village police found Aminur in front and asked him to vaccinate him.
Village police member Aminur said, "I dared to get vaccinated as no one at the hospital agreed to vaccinate me."
Dr Rajiv Sardar said 18 people applied for the vaccine in Tala. Activities have been inaugurated by applying one.