Bangladesh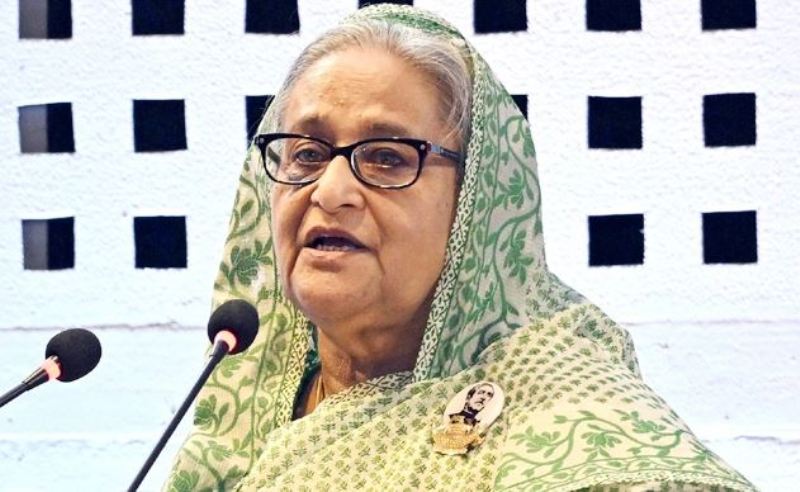 PID
No one to remain landless, homeless in Smart Bangladesh: Prime Minister Hasina
Dhaka, March 17: Referring to the need for smart citizens to build a smart Bangladesh, Prime Minister Sheikh Hasina said that today's children should be developed with human qualities. They will be the smart population of Smart Bangladesh.
She said, "In Smart Bangladesh, no child will be deprived of the light of education, no person will be landless and homeless. We will build Bangladesh by meeting the basic needs of all people and will not be burdened by poverty."
She said these things at a function organized at the Samadhi Soudh Complex of the Father of the Nation in Tungipagara, Gopalganj on Friday.
The event was organized to celebrate the 103rd birth anniversary of Father of the Nation Bangabandhu Sheikh Mujibur Rahman and National Children's Day-2023.
It was held under the initiative of Ministry of Women and Child Affairs and under the management of Gopalganj District Administration. This year's theme of National Children's Day is 'Bangabandhu's birthday in the dream of Smart Bangladesh, children's eyes are colored with the dream of prosperity'.
Speaking as the chief guest at the event, the Prime Minister said, "I will tell the children of today that sports, physical activity, cleanliness, obeying the teachers, obeying the parents and every child must follow the rules. Everyone must have good human qualities. Be sympathetic to those who are disabled."
She said, "The father of the nation, Bangabandhu Sheikh Mujibur Rahman is not with us today, but his ideals are there. We will take Bangladesh forward with that ideal. The Bangladesh of the future will be 'Smart Bangladesh, Developed Bangladesh'."
Pointing out that the current government has taken all measures to protect children, the Prime Minister said, "We have built Digital Bangladesh. We want to build 'Smart Bangladesh' in 2041. Today's children will be the smart population of tomorrow. Those who will build this Bangladesh."
At this time, the Prime Minister urged today's children to develop themselves as better citizens through sports and physical activity.
She said, "As the father of the nation played football, his grandfather also played and my brothers played. Even sons and daughters and grandchildren play sports." For this, her government has organized various sports and competitions ranging from inter-school, inter-college and inter-university.
The Prime Minister said, "If our boys and girls participate in sports, their health will be good, their mind will be good and everyone will develop with a confidence. That is what I want."