Bangladesh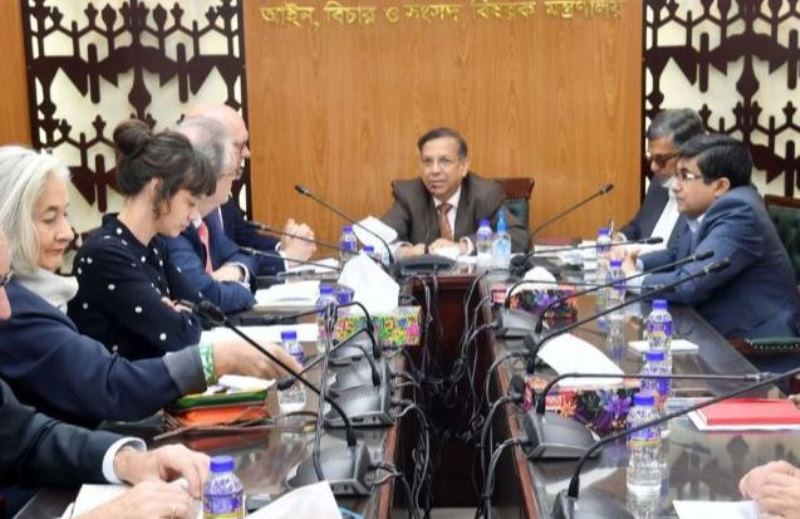 Photo: Collected
No pressure from foreigners on elections: Law Minister
Dhaka, March 10: Law, Justice and Parliamentary Affairs Minister Anisul Huq said there is no pressure from foreigners regarding the upcoming elections.
The minister said this in response to questions from journalists after a meeting with ambassadors of Denmark, Italy, Netherlands, Germany, Spain and France led by European Union (EU) ambassador to Bangladesh Charles Whatley at the secretariat on Thursday (March 9).
When asked if there was any discussion about participatory elections, the law minister said, "We want participatory elections. We want everyone to participate in the elections. I can also say that there is no question that the upcoming elections in Bangladesh will be free, fair, and neutral."
"We will not go outside the constitution. Elections will be conducted as per the constitution. We want all political parties of Bangladesh to participate in this election. But it is the decision of those political parties who will participate in the election and who will not. We want everyone to participate in this election," he added.
BNP will not come to the election in this environment, many ambassadors are talking about the environment of the election, when asked if they are feeling any pressure from foreigners, the law minister said, "There is no pressure from foreigners on us. If foreigners want to know because we don't do politics of killing or lies. So we have no objection to informing them about this. We don't hide anything, that's why we have no objection, no hesitation to tell foreign ambassadors about it.''
Anisul Huq said, "Bangladesh is an independent country, so we will not listen to anyone who talks about the independence and sovereignty of the country. We are an independent state, we will do what is good for the people."