Bangladesh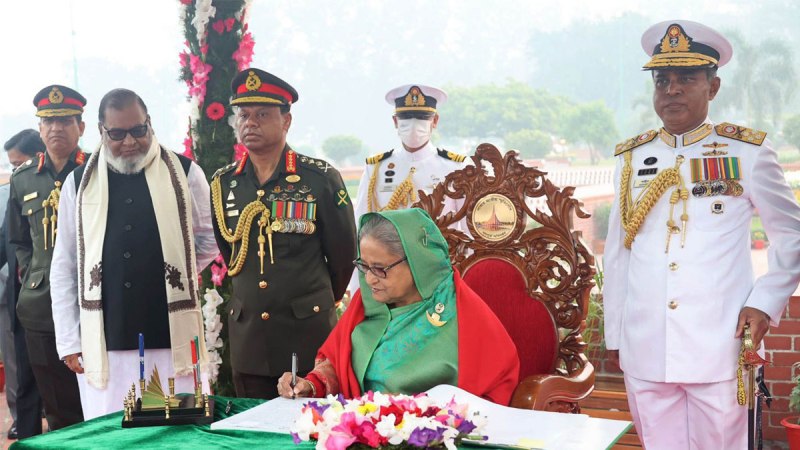 PID
No self-sacrifice goes in vain: Sheikh Hasina
Dhaka, December 17: On the occasion of the 51st anniversary of victory, Prime Minister Sheikh Hasina paid tribute to the martyrs of the Liberation War by laying wreaths at the Savar National Memorial on Friday morning.
After offering the wreath, he stood there silently for a while, paying deep respect to the memory of the brave martyrs of the Great Liberation War of 1971. Before leaving the memorial site, the Prime Minister wrote in the visitor's book:-
It has been 51 years since the independence struggle of the People's Republic of Bangladesh and the victory of the liberation war. I pay respect to all the martyrs of the great liberation war. I remember with utmost respect Bangabandhu Sheikh Mujibur Rahman, the greatest Bengali nation of all time. I remember my mother Begum Fazilatun Necha. To my two freedom fighter brothers Sheikh Kamal and Sheikh Jamal. Ten years younger brother Russell.
At the same time, on 15 August 1975, I pray for the forgiveness of the souls of those who were martyred. I pay my respects to the millions of mothers and sisters who were humiliated by the Pakistani invaders and their accomplices Al Badr and Razakars during the Great War of Liberation in 1971. No sacrifice is wasted.
The Prime Minister also wrote:-
Today's Bangladesh is on the march of development at an unstoppable speed from the path of ideals and non-communal spirit of the Great War of Independence. In 2021, Bangladesh has been promoted to the status of a developing country. By 2041, Bengalis will build the golden Bangladesh of the father of the nation Bangabandhu Sheikh Mujib's dream as an educated nation in knowledge, science and technology education. Smart Bangladesh will be established with dignity in the World Assembly.