Bangladesh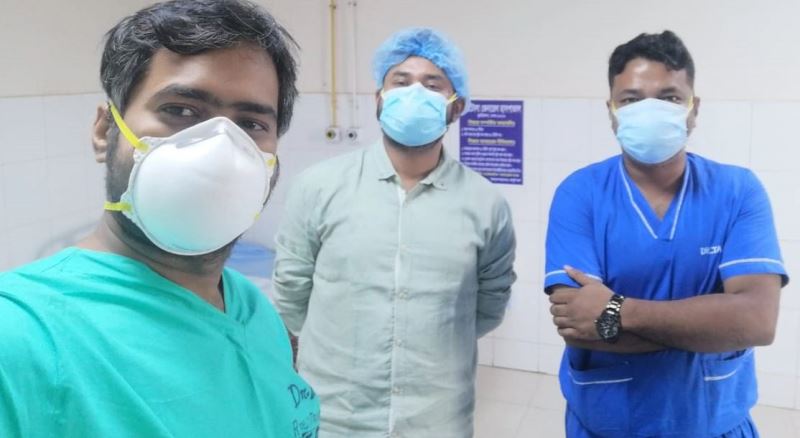 Collected
Non-Muslims in healthcare to facilitate their Muslims colleagues celebrate Eid
Dhaka, July 22: Bangladesh is a country of religious harmony. From the Eid of the Muslims to the worship of the followers of the Hindu religion and the Christmas of the Christians and the celebration of the Buddhist full moon of the Buddhists, the amazement spread among all the people of the country. This year's Eid-ul-Azha also did not lack amazement. Doctors and health from other religions workers working in different hospitals took the responsibility of providing health care to the patients on their shoulders while facilitating their Muslim colleagues to celebrate Eid with the families.
Dr. Dipankar Roy, who works at the Covid Dedicated Kurmitola General Hospital in the capital, has given his colleague Dr. Maruf Hasan the opportunity to celebrate Eid with his family and relatives.
In this context, Dr. Dipankar said, "I have told him personally, not to come on duty today, but to perform the duty another day according to the roster." Because, he cooperates with me at different times including our worship. So it is my responsibility to give him a chance on Eid.
He said Dr Maruf could not celebrate the last two Eids at home because of Corona. We did our duty together. So I have taken the responsibility of this Eid duty. A hospital is a place where medical activities do not stop once they start. If patients keep coming, the working doctors also have to fulfill their responsibilities. Whether it is Eid or Puja. In that case, someone or someone has to come forward in the service.
After a long time, Dr. Maruf Hasan Avio is happy to have the opportunity to spend Eid with his family. Thanking his colleague, he said, "Dr. Dipankar has changed his duty with me." I also did night duty on Tuesday. And since it was Eid on Wednesday, he told me, 'Stay with the family, I'm watching today.' It is a unique example of religious harmony. And this is possible only in Bangladesh.
Not only Dr. Dipankar, but other hospitals like Kurmitola General Hospital have seen such harmony. Dr. Pragya Parmita Ankur, Medical Officer, Naria Upazila Health Complex, Shariatpur, shared her joy with the patients this Eid. He said, "We are performing the duties of two traditional religious colleagues on Eid." I am doing this in four Eid hospitals. I am sharing the joy of Eid with the patients. It feels good.
Dr. Pragya said that the environment of the hospital is very scary because of Corona. We have to go directly to the patients, we have to give treatment. Still feeling good. The most important and happy time of life is being able to be with the patients, to be able to give treatment.