Bangladesh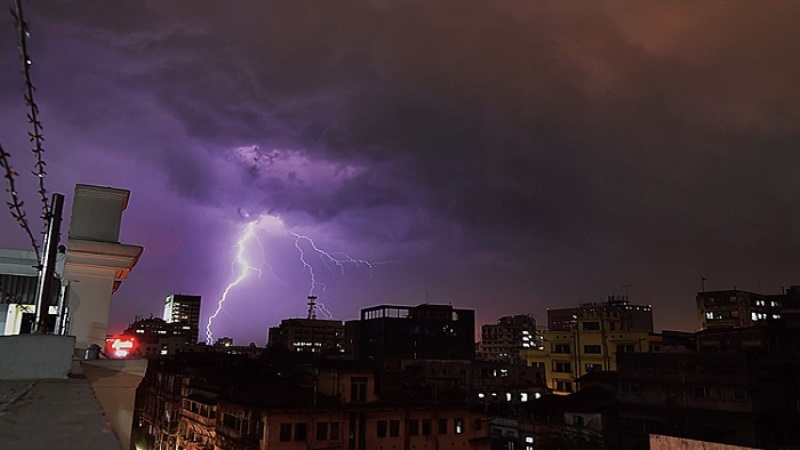 Collected
Nor'wester lashes Dhaka
Dhaka, May 4: Kalbaishakhi storm with strong winds blew in the capital last night. The storm, which started from the western part of the country, hit Dhaka around 12 midnight.
Md. Shahinul Islam, a meteorologist at the Bangladesh Meteorological Department, said that the western part of the country, namely Rajshahi, Jessore, Rangpur, Jhenaidah and Kushtia, has been experiencing heavy rains since Monday evening.
He further said that the storm came towards Dhaka around 12 midnight. Since then, it has started raining in the surrounding areas including the capital. The duration of a storm can be like a bell. However, the weather conditions may change at any time. The speed of the storm can be understood around three o'clock in the morning.
Meanwhile, the weather forecast for the next 24 hours said that some places in Rangpur, Rajshahi, Mymensingh, Dhaka, Chittagong, Khulna, Barisal and Sylhet divisions may experience temporary gusts or thundershowers. Along with that there may be scattered hail somewhere. Besides, day and night temperatures across the country may remain almost unchanged in the next 24 hours.
In the next 48 hours of weather conditions, temperatures are expected to rise slightly. The relative humidity in Dhaka was 51 percent this evening. The highest rainfall in the last 24 hours was 49 ml in Chandpur. The highest temperature in Jessore was 36.6 degrees Celsius. The maximum temperature in Dhaka was 34.5 degrees Celsius.
In the synoptic state, it has been said that the increase in western light pressure is located in West Bengal and adjoining Bangladesh. An extension of it extends to the North Bay.