Bangladesh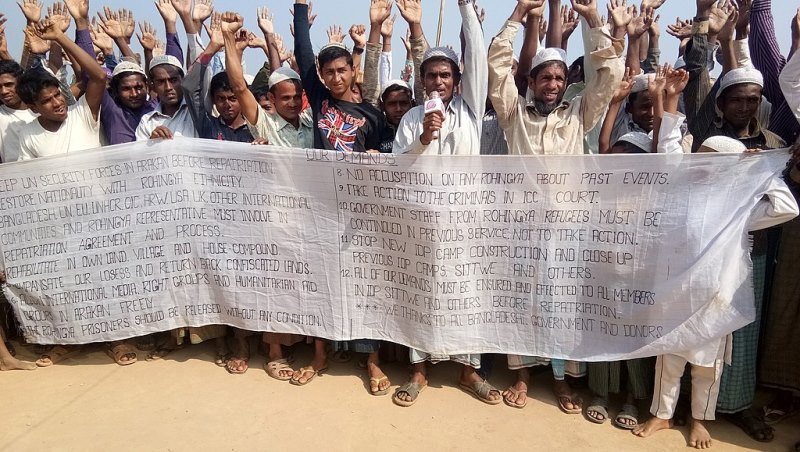 Wikipedia
Not possible to carry the burden of Rohingyas indefinitely: Foreign Minister Momen
Dhaka, August 7: Foreign Minister Dr AK Abdul Momen has said that it is not possible for Bangladesh to bear the burden of Rohingyas indefinitely. He also sought the cooperation of world leaders in resolving this issue while addressing the 28th meeting of the ASEAN Regional Forum (AFR) on Friday (August 6).
The Foreign Minister said that although Bangladesh was not a signatory to the 1951 Refugee Convention or the 1967 Protocol (Relating to the Status of Refugees), it has provided shelter to 1.1 million Rohingya refugees on humanitarian grounds alone.
He further said that it is not possible for Bangladesh to bear this burden indefinitely by compromising 6,800 acres of sovereign forest land. He also called on world leaders to take concerted action to mitigate the adverse effects of climate change on the region.
Dr. Momen also briefed the meeting on the leading role of Bangladesh in tackling the climate crisis. He called on the leaders to take united steps to accelerate the implementation of the Paris Agreement aimed at advancing global climate.
The Foreign Ministers of Bangladesh and the Foreign Ministers of other countries exchanged views on various regional issues, such as the Rohingya refugee crisis, climate change, nuclear, cyber security and other possible regional issues.
Dr. Momen hoped that under the dynamic leadership of ARF, good governance and strong economy will be created in the developing countries of the region. Commenting on Bangladesh's role in combating coronavirus, he termed the Covid-19 jabs as 'public good' as it is closely associated with public welfare.
He said its technology should be distributed equally among all. Dr. Momen also emphasized on the production of affordable vaccines.
He said Bangladesh has always refrained from arms competition and disarmament as the constitution emphasizes on complete disarmament and peaceful settlement of disputes. Since becoming a member of the United Nations, Bangladesh has always played an active role in UN disarmament diplomacy.
The 28th ASEAN Regional Forum was held in Brunei. Dr. Momen virtually led the Bangladesh delegation in this meeting. Representatives of 28 member states, including foreign ministers and deputy foreign ministers, took part in the meeting. Brunei's Second Minister of Foreign Affairs Dato Erywan Pehin Yusof presided over the meeting.
ARF member countries Australia, India, Indonesia, Malaysia, New Zealand, the Philippines, the Republic of Korea, Singapore, the United States and the European Union agreed to resolve the Rohingya issue as soon as possible. They stressed the need for safe, sustainable and dignified repatriation of Rohingyas.