Bangladesh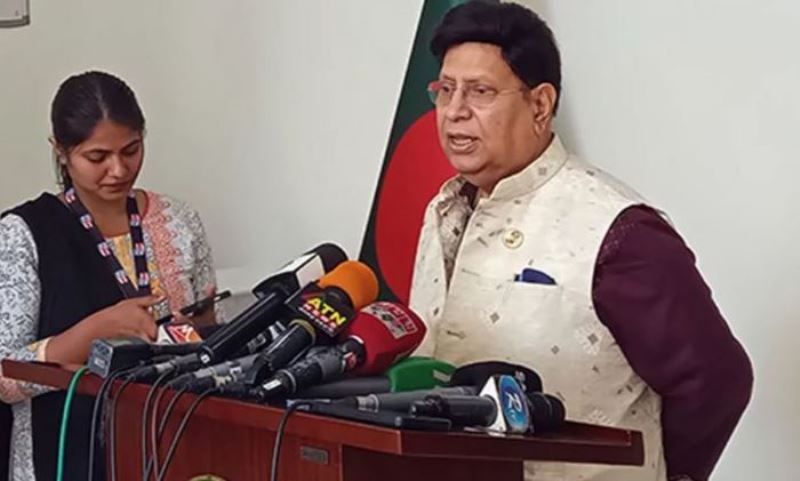 Photo: Collected
Nothing will happen to Bangladesh if US imposes sanctions: Foreign Minister
Dhaka, Nov 20: Foreign Minister AK Abdul Momen said that United States is a country of sanctions. They can give sanctions if they want, they are rich.
"We will act according to our reality. We cannot become the United States in one day. However, nothing will happen to Bangladesh if the United States imposes sanctions," he said.
He said these in response to a question from journalists at the Ministry of Foreign Affairs on Sunday (November 19). US President Joe Biden has recently signed a new memorandum on the rights of workers worldwide and improving their standards. The issue of Bangladesh also came up in the speech of US Secretary of State Anthony Blinken while announcing the issuance of the memorandum.
Blinken said sanctions, commercial fines and visa restrictions will be imposed to hold accountable those who threaten, intimidate, attack union leaders, labor rights defenders and labor unions. We want to be with people like Kalpana Akter, a Bangladeshi garment worker. He said he is still alive because the US embassy worked for him. Journalists drew the attention of the foreign minister in this regard.
The foreign minister said that it took two and a half years for America to reach this state. Workers in America were once slaves. It was dropped in Abraham Lincoln's time. This omission led to the American Civil War. In the early 1900s, every worker in America worked 18 hours. He got only 20 cents as a wage. We have not forgotten that history.
When asked whether new trade restrictions will come from the United States, Momen said, "I don't know." It is another country's jurisdiction. At this time, he said, we know about the economic development of America. In that respect, our workers are faring better than America in terms of economic development. Now their (United States) per capita income is 65,000 dollars. And our per capita income is 2,800 dollars. Compared to that, my workers are much better off. They should know about our process.