Bangladesh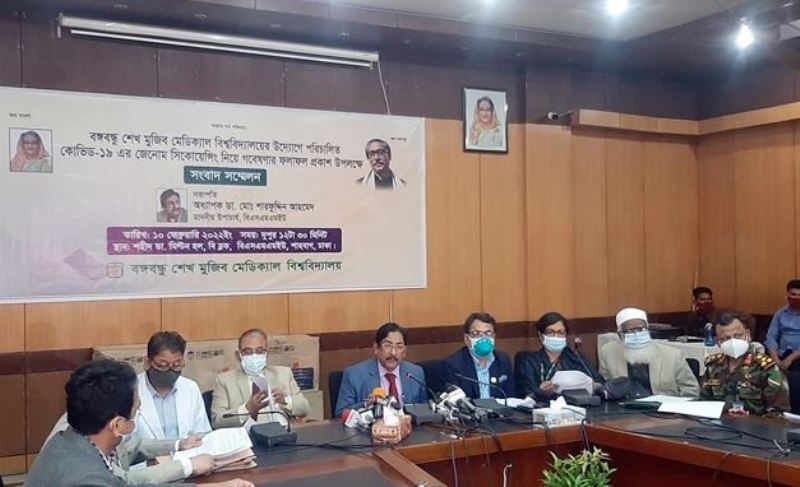 Collected
Omicron variant make up 82 percent of all Covid-19 cases in Bangladesh currently
Dhaka, February 10: About 82 percent of those infected with Coronavirus (Covid-19) in the country is suffering from the Omicron variant. However, although the rate of transmission in Omicron is much higher than Delta, the death rate is lower. This information was given at a press conference held at Bangabandhu Sheikh Mujib Medical University (BSMMU) Shaheed Dr. Milon Hall on Thursday (February 10) at 12:30 pm.
The results of the research on genome sequencing of Kovid-19 conducted by BSMMU were released at the press conference. It was presided over by Vice Chancellor Prof. Dr. Md. Sharfuddin Ahmed.
According to the study, between 9 January and 9 February this year, 82 per cent of the total admissions in BSMMU and outpatient department suffered from the Omicron variant. Where Delta variants have been found in the body of 18 percent of people. Only 88 percent of outpatients are infected with Omicron. Among them, three types of sub-variants of Omicron have been observed. According to the World Health Organization (WHO), the BA.2 (EO.2) variant of Omicron is the most contagious.
That being said, the rate of transmission to Omicron is much higher than that of the Delta variant. Omicron variants have been found to have more mutations than the delta variant of the genome. Most of which have been in the spike protein of the virus. Most vaccines are based on this spike protein. Omicron infection remains a possibility even after conventional vaccination due to structural changes in spike proteins.
It was informed at the press conference that BSMMU has published the results of this study by sequencing 937 genomes of Covid-19. This report is the result of seven and a half months of ongoing research of BSMMU.
Dr. Md. Sharfuddin Ahmed said that all variants of coronavirus are dangerous and can even cause death. As well as the regular mutations of the virus can endanger our conventional health system. So to prevent coronavirus infection, hygiene rules must be followed and vaccination must be taken.