Bangladesh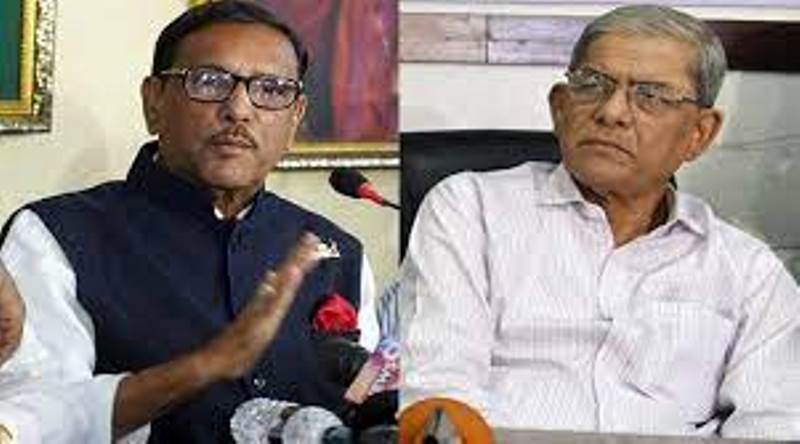 File photo/Collected
Our knees and back will not break: Obaidul Quader to Fakhrul
Own Correspondent, Dhaka, Oct 1: Awami League General Secretary and Bridges Minister Obaidul Quader said, the knees and back of the Awami League will not break. Awami League was born in this soil, the roots of this party are very deep.
He said, "Our knees will not break, our back will not break either. Awami League was born on this soil. Awami League is a grassroots party. Our roots run deep. Someone who was born in this land will not break his back. I did not make a mistake, Fakhrul sahab made a mistake."
Bridges Minister said this in response to a question from journalists at a discussion meeting organized by Awami League's relief and social welfare sub-committee on Friday (September 30) on the occasion of the birthday of Awami League President and Prime Minister Sheikh Hasina. The discussion meeting was organized in Bangla Academy Auditorium. During this time, educational materials were distributed among the students of the Bangla Department of Dhaka University.
In response to BNP Secretary General Mirza Fakhrul Islam Alamgir's statement that "Awami League's knees are broken", Obaidul Quader said that the day before yesterday at the Bangabandhu International Conference Center function, I had said that the BNP with its back broken, the BNP with its knees resting on a stick. I saw that Fakhrul sahab of BNP has given his answer. He said Awami League's knee is broken. Mirza Fakhrul has forgotten it is not my words, their think tank Public Health Trustee Dr. Zafrullah Chowdhury said this. Repeatedly said BNP with a broken back, BNP with broken knees. I reminded them of the broken-kneed group leaning on sticks.
Highlighting the development and contribution of Prime Minister Sheikh Hasina, Obaidul Quader said, "Sheikh Hasina is our shining light in disaster. She has repeatedly waved the flag of creation over the ruins. Bangladesh 13 years ago and today's Bangladesh are not the same. Was it easy to prosecute war crimes in this country? She has atoned for our sins by judging Bangabandhu's murder. Sheikh Hasina was born for the welfare of the people."