Bangladesh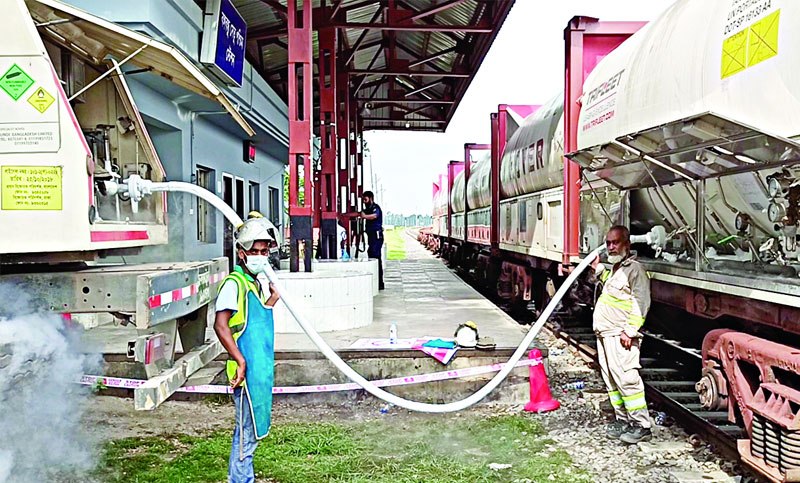 Collected
Oxygen from India being unloaded at Benapole
Dhaka, October 12: Oxygen brought by rail was delivered through Benapole port to reduce transportation cost. On Monday night (October 11), 200 tonnes of liquid medical oxygen brought from India by Oxygen Express through Benapole land port was unloaded there. Earlier, these liquid oxygen would be unloaded at Sirajganj on the west bank of Bangabandhu Bridge. From there it would go to Dhaka in different tanks.
Mostafizur Rahman, C&F agent representative of the importer, said, 'Earlier, the oxygen brought by train was unloaded at Sirajganj on the west bank of Bangabandhu Bridge. From there it was sent to different parts of the country. This would have increased the cost a lot. That is why from now on the 'Oxygen Express' coming from India is being unloaded from Benapole port and sent to different places of the country including Dhaka. This will reduce our costs a lot. He added that 200 tonnes of oxygen was unloaded from Indian Railways and sent to Dhaka on Monday night. After emptying the oxygen here, the empty train goes back to India through this route again.
Benapole Railway Station Master Saiduzzaman said the Indian Railways' Oxygen Express with 200 tons of oxygen arrived at Benapole railway station in the afternoon. At the end of the customs formalities, the train returned to India after unloading oxygen from the train.
Saifur Rahman Mamun, revenue officer of Benapole Checkpost Customs Cargo Branch, told Jago News that the Indian train carrying oxygen was released as soon as it entered the railway station at Benapole port after completing the paperwork formalities. Linde from Benapole has been unloaded in an oxygen tanker of Bangladesh.