Bangladesh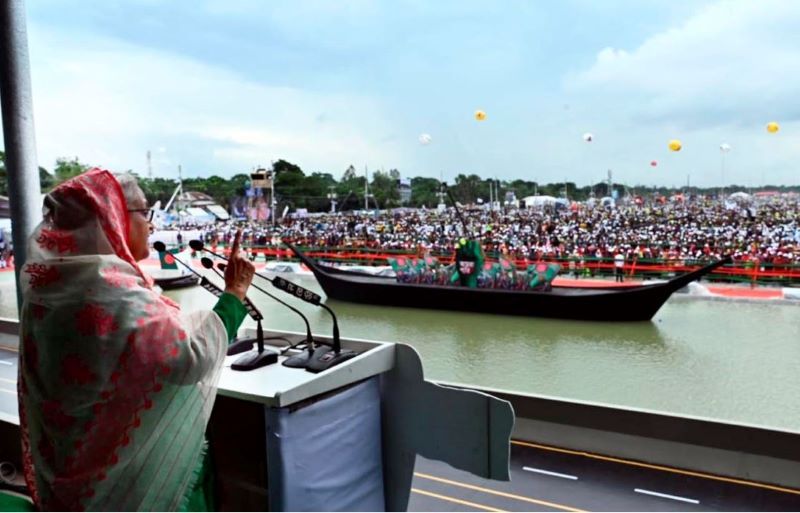 PID
Padma Bridge a proper answer to those who obstructed its construction: Prime Minister Hasina
Dhaka, June 25: Awami League President and Prime Minister Sheikh Hasina has said that a proper response has been given to those who obstructed the construction of the Padma Bridge. She began her speech at 1:00 pm on Saturday (June 25). Top leaders of Awami League and the Prime Minister's daughter Saima Wazed Putul were also present.
The Prime Minister said, "We have given an answer to those who have obstructed. I have been able to give them a proper answer through the inauguration of this Padma bridge. The father of the nation had said, no one can suppress us. They could not and will not be able to do it."
Sheikh Hasina said, "Today is a special day for the people of the southern region. A while ago, I inaugurated the Padma Bridge, the dream project of the people of this region. Alhamdulillah."
She said, "I came in 2001 and laid the foundation stone of the Padma Bridge. BNP leader Khaleda Zia had said we will never be able to build a bridge. But we are able to do it, because you were by our side. The strength of the people is great power. That's what I believe."
She said, "I have come to you after losing my parents and siblings. You were also by my side."
The Prime Minister unveiled the inaugural plaque and mural-2 adjacent to the toll plaza at the Jajira end of the Padma Bridge at 12:36 pm. Later she took part in prayers. Earlier, the Prime Minister unveiled the plaque of Padma Bridge at the Mawa end at 11:58 am. At 12:06 pm, the Prime Minister's convoy left for Jajira via the bridge. At 11:48 am, the Prime Minister paid the toll.
The Prime Minister reached Dogachhi Padma Bridge Service Area-1 in Munshiganj by helicopter at 10:00 am. From there she attended a gathering organized at the ground adjacent to the North Thana of the Padma Bridge and addressed the gathering as the chief guest. Three and a half thousand well-wishers took part in the rally. Among them were ambassadors of different countries, prominent citizens and journalists. After the rally, the Prime Minister unveiled the plaque of Padma Bridge at the end of Mawa. She later took part in the prayers.
Traffic on the Padma Bridge will resume on Sunday (June 26) at 6:00 am. On July 4, 2001, Prime Minister Sheikh Hasina laid the foundation stone of the dream Padma Bridge. Construction began in November 2014. The Truss, made of two-layer steel and concrete, has a four-lane road at the top and a single rail at the bottom.