Bangladesh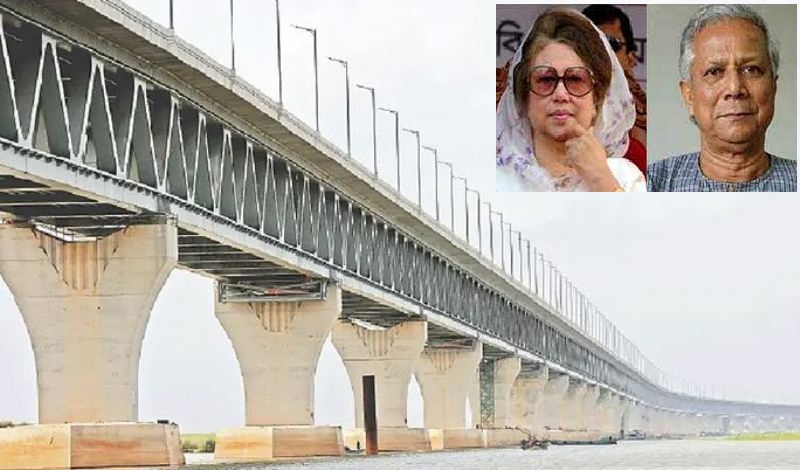 File photo
Padma Bridge inauguration: Khaleda not invited, Dr. Yunus receives invitation letter
Own Correspondent, Dhaka, June 23: The government did not invite BNP chairperson Khaleda Zia separately to the inauguration function of the Padma Bridge, one of the mega projects in Bangladesh. However, Nobel laureate Dr. Muhammad Yunus has accepted the invitation to the glamorous event, the bridge department said.
Dulal Chandra Sutradhar, deputy secretary of the bridge division, came to BNP's central office in Naya Paltan at 11 am on Wednesday and handed over the invitation letter to the party's senior joint secretary general Ruhul Kabir Rizvi for the inauguration ceremony of the Padma Bridge. Although there were names of seven top BNP leaders, Khaleda Zia's name was not there.
The seven invited BNP leaders are party secretary general Mirza Fakhrul Islam Alamgir, standing committee members Khandaker Mosharraf Hossain, Mirza Abbas, Gayeshwar Chandra Roy, Abdul Moin Khan, Nazrul Islam Khan and vice chairman Hafiz Uddin Ahmed.
An official of the bridge department said on condition of anonymity that an invitation letter had been sent to Grameen Bank founder and Nobel laureate Dr. Muhammad Yunus. The invitation was accepted on Wednesday in favour of Dr. Yunus. However, no separate invitation was sent to Khaleda Zia. Three and a half thousand guests including political personalities, foreign diplomats, freedom fighters and journalists have been invited to take part in the inaugural function.
When he was asked if any foreign guest will be present at the event, the bridge department official said those who have worked as experts in the construction of the Padma Bridge have been invited as foreign guests. "In addition, our foreign workers who have worked tirelessly to build this bridge will also be invited. Diplomats posted in Bangladesh have also been invited."
Next Saturday (June 25), Prime Minister Sheikh Hasina will inaugurate the much-awaited Padma Bridge. It is estimated that there may be a gathering of about 8-10 lakh people.