Bangladesh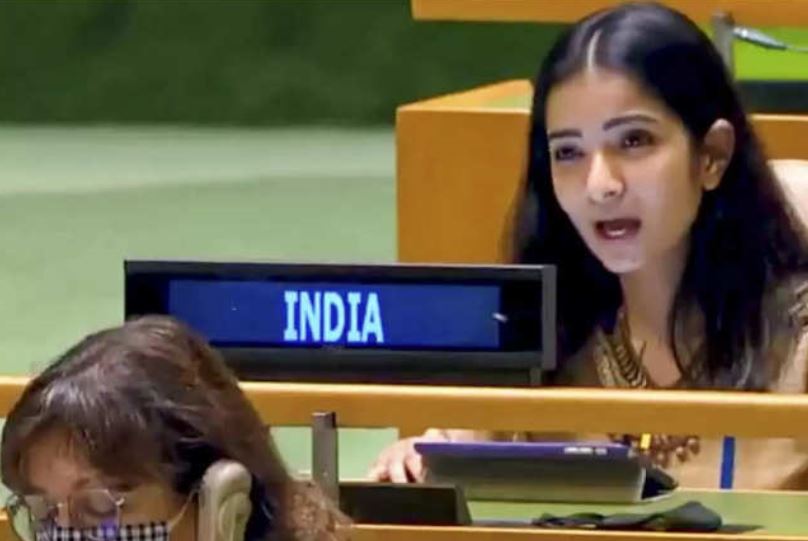 Youtube grab
Pakistan slammed at UN dragging Bangladesh issue
Dhaka, September 26, 2021: India and Pakistan had a heated exchange of words at the 7th session of the UN General Assembly.
Meanwhile, Pakistan's Prime Minister Imran Khan has accused Narendra Modi's government of being "anti-Muslim" over the Kashmir issue. In response, a young Indian diplomat slammed the Pakistani government over the issue of Bangladesh.
It is nothing new for Imran Khan to make aggressive statements towards India. But in a speech to the United Nations on Friday (September 24), he seemed to be on fire.
The Prime Minister of Pakistan has accused Prime Minister Modi of trying to make India "Muslim-free". Imran Khan did not go to New York because of Corona. Instead, he sent a previously recorded video message. The Prime Minister spoke on climate change, global Islamophobia and the widespread looting of corrupt elites in the developing world.
Imran Khan said Pakistan, like all its neighbors, wants peace with India. But lasting peace depends on resolving the Kashmir dispute. He claimed that Pakistan had uncovered detailed evidence of human rights violations by Indian security forces in the region. Sources: Al Jazeera, Mint, G News
The Pakistani Prime Minister did not stop attacking the world community on this day.
He alleged that the country's human rights violations were being ignored in the commercial interest of capturing the market of hundreds of millions of people in India.
Narendra Modi was not present at the UN session on Friday. However, Sneha Dubey, India's First Secretary to the United Nations, gave a strong reply to Imran Khan. He addressed the session using the 'Right to Response' opportunity. Sneha fired back, saying Pakistan is the country that ignites the fire in the guise of a firefighter.
Everyone knows that Pakistan nurtures terrorism. Mentioning that al-Qaeda leader Osama bin Laden was found in Pakistan, the young diplomat said the country had a record of harboring terrorists at the UN Security Council.
At the same time, Sneha also mentioned the genocide carried out by Pakistan on the land of Bangladesh in 1971. He said Pakistan was a country that carried out religious and cultural genocide against the people of present day Bangladesh. We are marking the 50th anniversary of that horrific event in history, but (Pakistan) has not acknowledged it even today, the accountability is much less.

Narendra Modi will address the United Nations on Saturday (September 25). At the same time, he is expected to respond to criticism from Pakistan.