Bangladesh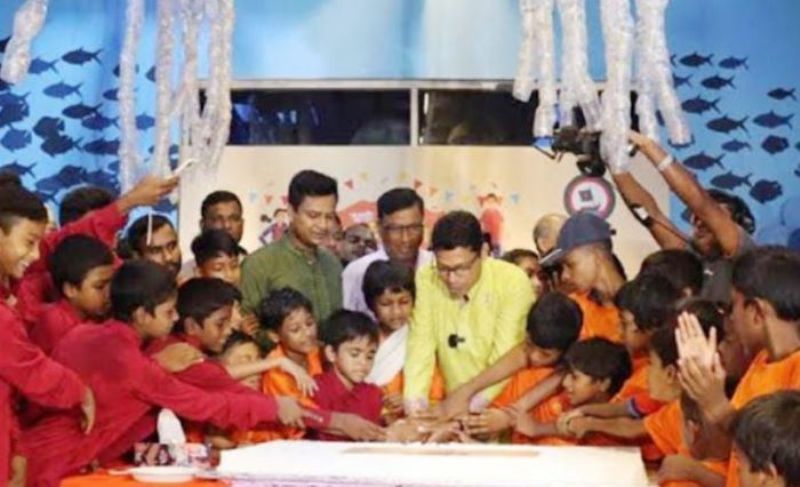 Collected
Palak celebrates Sheikh Hasina's birthday with street children
Own Correspondent, Dhaka, 29 September 2023: State Minister for Information and Communication Technology Junaid Ahmed Palak cut a cake with underprivileged street children on Prime Minister Sheikh Hasina's 77th birthday. On the occasion of birthday celebration on Thursday 28th September, Information and Communication Technology Department organized a cake cutting and special program at Chitrashala of Bangladesh Shilpakala Academy for underprivileged street children. The state minister fed cakes to the underprivileged children and played with them at various stalls set up in the Smart Children Carnival.
The state minister said that there are very few events for children in the city. It can be said that there is no initiative to please the future leaders of Bangladesh. That is why the information and communication technology department has undertaken this special event to celebrate the birthday of the beloved Prime Minister Sheikh Hasina in a joyful atmosphere with the underprivileged street children to realize the dream of building a country free from discrimination.
He said Prime Minister Sheikh Hasina has gifted us digital Bangladesh. He gave vision for making Smart Bangladesh. He has given us a dignified middle income Bangladesh by fulfilling basic needs including internet, electricity facilities.
The prime minister has faced death 21 times but never turned away from the people of this country. He is constantly striving to give the people a better modern life. Gave up happiness and comfort. Bangabandhu gave a philosophy of simple living high thinking to future generations.
The State Minister said that the ICT department has created 'Sheikh Hasina and Friends' to inform the future generation how to win in the struggling life through hard work and hard work.
Hundreds of underprivileged children participated in the birthday cake cutting ceremony of the children's families and street children of the Ministry of Social Welfare. Later prayers were offered for the Prime Minister's good health and long life. ICT Secretary Md. Samsul Arefin, BCC Executive Director Ranjit Kumar and other officials were present in the event.