Bangladesh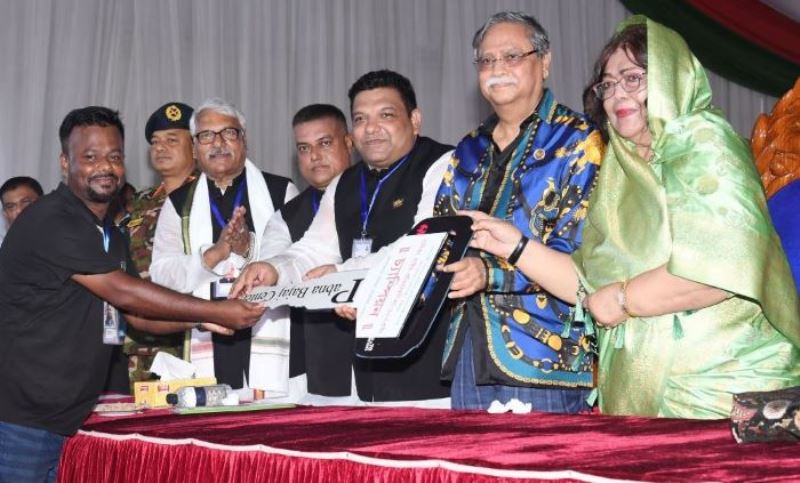 Photo: PID
People have started reaping mega projects' benefits: President
Dhaka, Sept 29: President Md Shahabuddin said that all the mega projects including construction of Padma Setu, Metrorail, third terminal of Shahjalal International Airport, Karnaphuli Tunnel, Elevated Expressway and Rooppur Nuclear Power Plant are being completed on time. People have also started reaping their benefits.
He also said that despite various challenges including Corona pandemic and Russia-Ukraine war, Bangladesh is moving forward by facing the negative situation of the economy. The country is moving towards progress and development. Resisting all conspiracies (we) will join that march.
President Md. Shahabuddin said these in the speech of the chief guest at the final stage of boating competition on Ichamati river at Santhia in Pabna on Thursday afternoon. On the occasion of Prime Minister Sheikh Hasina's 77th birthday, Santhia Municipality organized this week-long boat ride.
The President said that boating is a unique tradition of the rich culture of Bengal. The priceless elements of folk culture are spread everywhere in Bengal. If these folk cultures are nurtured properly, they can become invaluable resources of world culture and literature. Pabna district is a fertile field of Bengali folk-culture. Boating is one such traditional festival of our area.
Mentioning that there has been a new momentum in the development of Pabna, President Md. Shahabuddin said that although a medical college was established in Pabna in 2008, there was no hospital till now. The construction work of 500-bed hospital in Pabna has been auspiciously started this morning. Pabna to Dhaka rail service was supposed to start this month but it was not possible due to administrative and technical reasons. But it will start soon. Besides, a project for rehabilitation and re-dredging of Ichamati River is awaiting final approval.
He said, Bengali is a nation of heroes. We made this country independent by fighting under the leadership of Bangabandhu. He fought forever for the political and economic emancipation of the people of Bengal. Suffered imprisonment and torture. After independence, Bangabandhu started working to establish non-communal Bengalis in the world court to advance the country. For that purpose, he also gifted us one of the best constitutions in the world in a short period of time. But we lost the father of the nation after only three and a half years of independence due to the conspiracy of anti-independence assassins. It was our ultimate failure as a nation. Because we couldn't hold him. Even though Bangabandhu is not with us, his ideals are the guide and inspiration for Bengalis to move forward.