Bangladesh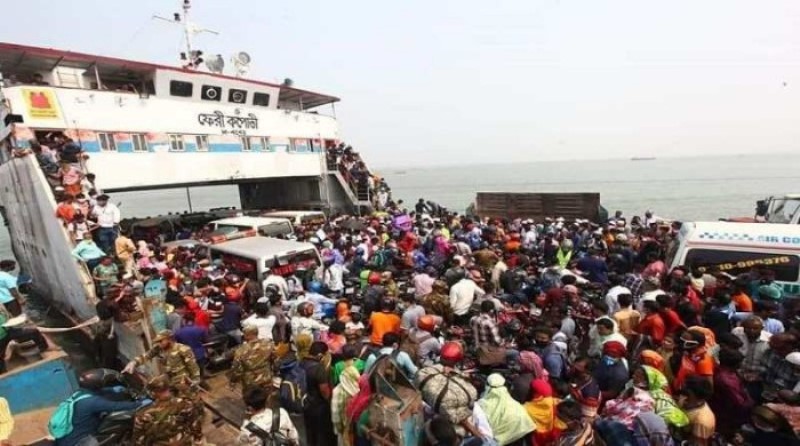 Collected
People risking their lives to return home
Dhaka, April 13: A huge crowd of people has returned to the Gabtoli bus stand. Due to the ongoing lockdown in the Corona situation, long-distance buses are closed. This opportunity has been seen to collect high fares.
The traffic police were also seen filing cases and collecting fines for illegally intercepting long-distance passenger transport.
On Tuesday (April 13) in Gabtali, people in the city have been waiting at the Gabtali bus stand since dawn. He is going home through Aricha and Paturia ghats by filling microbuses, private cars, motorcycles, CNG, pickups and trucks without getting long distance buses despite trying in various ways. Many of them are returning home at the risk of their lives, including small children and families
It was seen that they were going home from Gabtali to the ghat by local bus. As there is a crowd of overcrowded people, the passengers are stumbling as soon as the microbus or private car stops at the Gabtoli bus stand area. At this time, in the greed of extra fare, these transports are taking people by filling the car without paying attention to the hygiene rules.
Bilkis Begum, 65, came to visit her grandson's house in Matikata area of ​​Mirpur. He has been sitting in Gabtali since morning to return to his village home in Khulna. He was doing it at Gabtali bus stand as he could not go even after trying various ways as the long distance bus was closed.
Shahnaz Begum is waiting at the Gabtoli bus terminal with her three young children. The girl came to Dhaka to see her because she was ill. At present her husband is ill and she wants to go to her village home in Jessore. He came to Gabtali from dawn and waited but could not get a bus. He said he wanted to return to his village home, relying on God and risking his life.
A family in Dhaka has come to Gabtali to go to Chapainawabganj with their six-month-old baby and wife. Talking to Yusuf, the head of the family, he told Jago News that he could not leave the house for a week due to the lockdown, so he was going home with his family. He said that his mother and relatives are at home and he is returning home to spend the holidays with everyone.
Yusuf also said that he was renting a private car for Tk 2,000 to reach Aricha Ghat as the long-distance bus was closed.
Uber private car driver Mizan Mia has been taking passengers from Gabtali to Aricha and Paturia Ghats for the past few days during the lockdown. Talking to him, he said that they are taking passengers to Aricha and Paturia ghats at Tk 500 to Tk 600 per head. For this, the brokers of Gabtali bus stand have to pay 200 to 300 taka. Passengers are picked up through brokers, he said.
Shamsul Alam is taking passengers on a motorcycle on the highway road as Uber-Patha is also closed. He said he was taking passengers to the wharf for Tk 700 to Tk 1,000.
Traffic police sergeant Hasanat, who is on duty at the Gabtoli bus stand, said a case was being filed against the microbuses and private cars which were illegally taking passengers from the Gabtoli bus stand.
He said it was not possible for him to detain everyone as he was on duty here alone. Some people are able to take this opportunity to leave with passengers. However, he said that 60 people have been detained and a case has been filed since this morning.