Bangladesh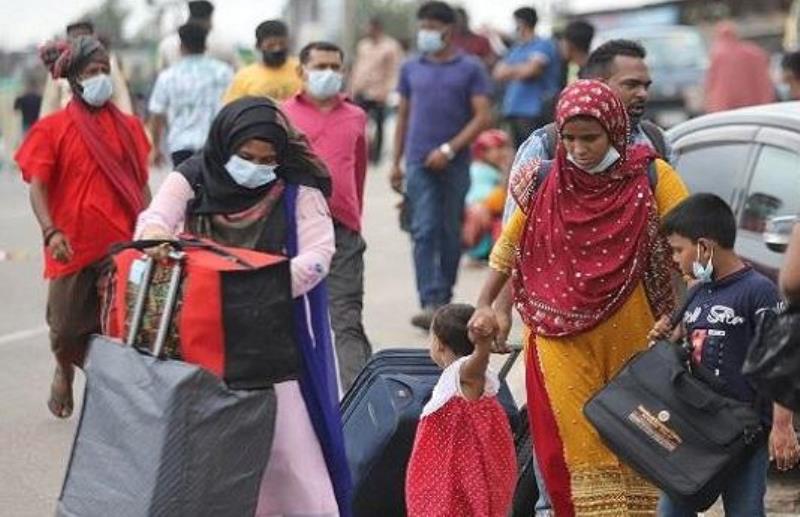 Collected
People still returning to Dhaka despite lockdown
Dhaka, July 29: Even on the seventh day of the strict restrictions announced by the government to curb the spread of the coronavirus infection, people are returning to the capital despite facing harassment, excessive expenses and suffering. At this time many of them reached their destination on foot, or in rickshaws, vans and motorcycles.
A large number of people were seen at the bus stand areas of Savar and Ashulia on Thursday (July 29) at noon. At this time they left for his destination with his family from different parts of the country. Most of the people were seen using rickshaws as public transport was closed due to the lockdown.
Many passengers said they changed transport many times and even resorted to walking to return back to the capital.
An officegoer said, "Didn't realize the lockdown would be so severe. The government has imposed the lockdown before. Then we would get transport, but now there is nothing. If this goes on, there is nothing we can do. The government should have facilitated our travel. I had to come back to Dhaka to save my job."
The ongoing restrictions are a part of a two-week hard lockdown imposed by the government from 6 am on July 23 to August 5.
At this time, except for the emergency services, public transport, industries and factories are to remain closed.
Earlier, the government relaxed restrictions ahead of Eid, to facilitate people from travelling to their ancestral homes and be with their families. Many took this opportunity to return to the countryside. Later, due to restrictions, public transport was stopped and many people struggled to return to work.