Bangladesh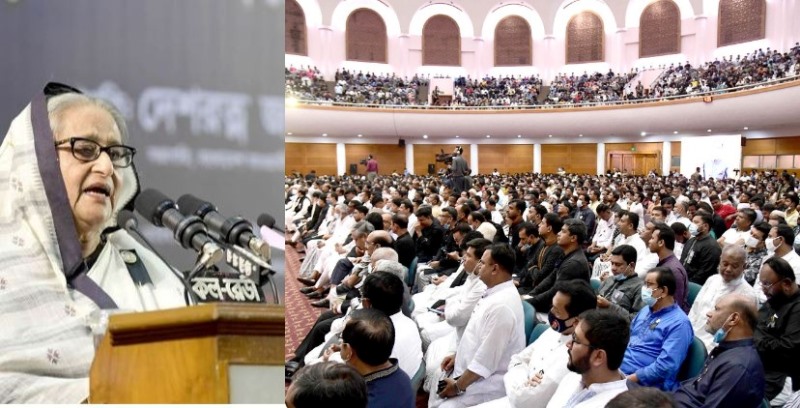 Photo: PID
Those who gave shelter to Bangabandhu's killers teaching lessons of humanity today: PM
Own Correspondent, Dhaka, August 17: Prime Minister Sheikh Hasina criticized the countries that gave shelter to the killers of Bangabandhu and said that the big countries that gave shelter to the killers who murdered my parents and brothers talk about human rights today, and teach the lessons of humanity.
She made this comment in the president's speech at the discussion meeting organized by the Awami League on the occasion of the 47th death anniversary of Father of the Nation Bangabandhu Sheikh Mujibur Rahman and the National Mourning Day at the Bangabandhu International Conference Center in the capital on Tuesday (August 16).
The Prime Minister said, today the countries which ban us after questioning human rights, gave shelter to murderers. Murderer Rashed was the commanding officer of the military order operation. Majed went there under the leadership of Rashed and Shahriar. We managed to bring Majed. But I have repeatedly talked to America to bring Rashed. But they are not returning him. They are raising him. And Noor is in Canada. But we have to pretend to be humane to these countries. The harbingers of my family's killers want to teach us human rights.
She said that the murderer Rashid lives in Libya. Sometimes goes to Pakistan. I know that the pomegranate is in Lahore, Pakistan, but I don't know more than that. Moslem Uddin was in some part of Assam, India, after many attempts, he could not be found. The name remains unchanged. Still trying. I have not been able to bring these people yet.
Sheikh Hasina said, "My question is, where are our human rights? Who will ask for justice? To those who nurtured murderers, human rights violators, murderers, or some harbor terrorists-militants? BNP is their supporter and nurturer."
The head of government also said, "Our government is questioned about human rights. My question to those who ask this question is, where were their human rights when they were killed on August 15? We did not even have the right to seek justice. We lost our parents. We cannot sue! I can't ask for justice! Why? Are we citizens of the country? I, and my younger sister was abroad. We survived. Those who live know how painful this life is."