Bangladesh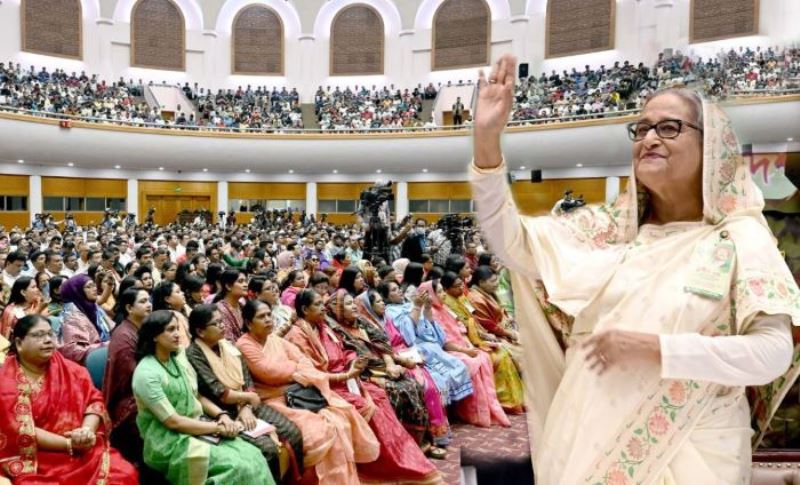 Photo: PID
People will never allow BNP-Jamaat alliance to come to power again: Sheikh Hasina
Dhaka, March 20: Prime Minister and Awami League President Sheikh Hasina said that the people of the country will never allow the BNP-Jamaat alliance to come to power and play with their fortunes.
She said, "Bombing, shooting, grenade attacks, 10 truckloads of weapons smuggling, embezzlement of people's money, embezzlement of orphans' money, they will never be able to come to power in this country. The people of Bangladesh will never accept them."
Prime Minister and Awami League President Sheikh Hasina said this in her presidential address at a discussion meeting organized by Bangladesh Awami League on the occasion of the 103rd birth anniversary of Father of the Nation Bangabandhu Sheikh Mujibur Rahman at the Bangabandhu International Conference Center in the capital on Wednesday afternoon.
She urged the leaders and workers of the party to highlight the work done by her government for the development of the country. Because they (BNP-Jamaat) lie to the people again and again and want to make that lie true. But, what did people get during their tenure - crying for food, people shot dead while asking for electricity, 27 workers were shot dead during Ramadan for demanding fair wages, and 18 farmers were killed for asking for fertiliser!
The Prime Minister said, these are their records, they have done these. And today you don't have to ask anyone for fertilizer. We have delivered electricity from house to house, working for the welfare of people. We have provided drinking water and sanitary latrines up to the village level. Providing 30 types of medicines through community clinics, from now on providing free insulin to poor diabetic patients from community clinics.
However, mentioning that BNP-Jamaatis feel pain when people are good, the Awami League president said, it should be remembered that Father of the Nation Bangabandhu Sheikh Mujib was born on this soil and he made this country independent. Therefore, no people in his Bangladesh will suffer from food shortages, will not be homeless, will not be deprived of the light of education - the quality of life of every person will improve, he said.
General Secretary of Awami League and Minister of Road Transport and Bridges Obaidul Quader delivered the opening speech at the meeting.