Bangladesh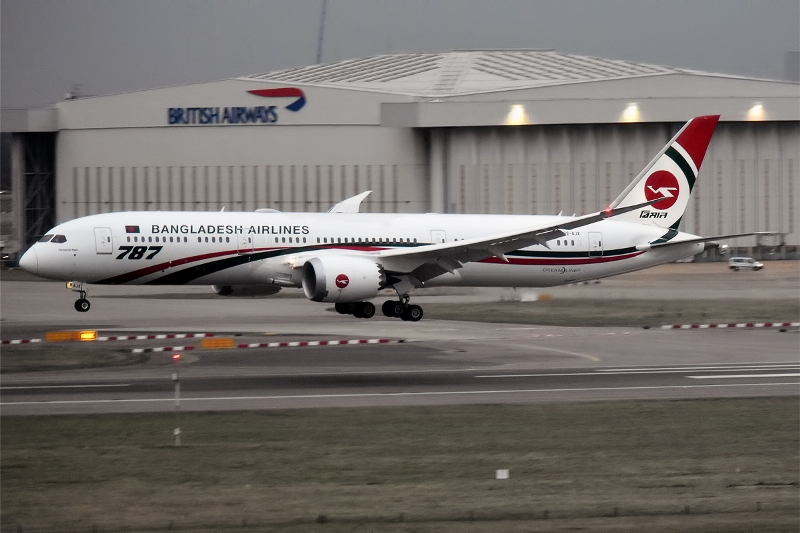 Anna Zvereva/Wikipedia
Pilots call off agitation following assurance from aviation authorities
Dhaka, October 27: Angry pilots, who have refrained from operating flights outside the contract in protest of pay cuts due to reduced passengers during the coronavirus pandemic, have suspended ongoing protests on the assurance of authorities. They made the decision after a fruitful meeting with the managing directors and directors of Biman Bangladesh Airlines on Tuesday (October 26) at noon. Earlier, the pilots withdrew from operating the flight outside the contract in protest of the pay cut from last Monday (October 25).
President of Bangladesh Airlines Pilots Association (BAPA) Mahbubur Rahman said, "The meeting with the authorities has been good, you can say we have had a fruitful meeting. They have made a gentleman's agreement and commitment. He said there is a board meeting next Saturday. The matter will be taken up in the board meeting and the existing problems will be resolved."
He also hoped that appropriate steps would be taken to adjust the salaries after evaluating the reasonable demands of the pilots at the board meeting.
Meanwhile, airport sources said that the departure of multiple flights has been delayed since Monday as the pilots have stopped operating flights outside the contract.
Due to the coronavirus pandemic, air travel was almost cut off in 2020 and the number of passengers dropped to almost zero. As a result, Biman Bangladesh Airlines reduced the salaries of its employees. Pilots' salaries have been slashed by 25 to 50 per cent since May last year. Although the airline is not yet fully operational, the decision to cut the salaries of the airline's officials and employees was made last July. The pilots complained that the airline authorities did not return their previous salaries.
BAPA's executive council met last July to demand the cancellation of the aviation authority's decision. It was decided at that meeting that if the salaries of the pilots were not adjusted like other officers / employees by July 30, they would join the movement.
The pilots later called off the strike on the assurance of the aviation authorities. However, due to non-implementation of the assurance, the pilots stopped working outside the contract.
At present 157 ​​pilots are working in the national flag carrier Biman Bangladesh Airlines.
According to the bilateral agreement between Biman Bangladesh and BAPA, the pilots are required to fly 75 hours a month and take eight days off a month.