Bangladesh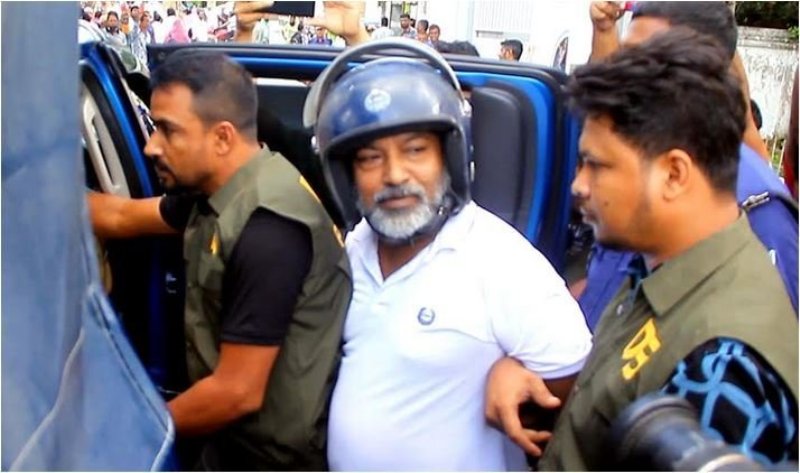 Photo: Collected
Pintu, fugitive convict sentenced to death for attack on Hasina, sent to jail
Own Correspondent, Dhaka, June 28: BNP leader Zakaria Pintu, a death-row fugitive accused in the assassination attempt on then Awami League president and current prime minister Sheikh Hasina, has been sent to jail by a court.
On Monday, Pabna Special Tribunal Court-2 sent him to the district court. Earlier on Saturday, Rapid Action Battalion (RAB)-2 arrested Zakaria Pintu (50) in a raid in Teknaf area of Cox's Bazar district.
The next day, on Sunday, the arrested person was handed over to Pabna Ishwardi police. He was later kept in the custody of the District Detective Branch (DB) police overnight due to special security reasons.
The arrested Pintu is the son of late Abdus Chhamad of Piarkhali Kanchaparipara mahalla of Ishwardi upazila of Pabna. Pintu was a former general secretary of Ishwardi Municipal BNP.
Pabna Additional Superintendent of Police Masud Alam said a court had pronounced the death sentence of nine top leaders of Ishwardi BNP on July 3, 2019. Pintu had been on the run since the day the verdict was announced. Apart from this case, Zakaria Pintu is also a fugitive in an arms case at Bheramara police station where he was sentenced to 17 years in prison. There are also a total of 24 cases against him. He is a fugitive accused in eight cases.
The then Leader of the Opposition and the present Prime Minister Sheikh Hasina was going to Syedpur from Khulna on September 23, 1994 by Rupsha Express train. BNP leader Zakaria Pintu and other accused in the case fired shots and bombs at the train at Ishwardi station area with an attempt to assassinate Sheikh Hasina.
Nazrul Islam, then officer-in-charge of Ishwardi GRP police station, filed a case on the same day. Later, the CID started investigating the case. On April 3, 1997, chargesheet were filed against 52 people in connection with the case.
When five of them died, they were released from the chargesheet. On July 3, 2019, the court sentenced 9 people including Zakaria Pintu to death. In addition, 25 people were sentenced to life imprisonment and 13 to 10 years imprisonment.