Bangladesh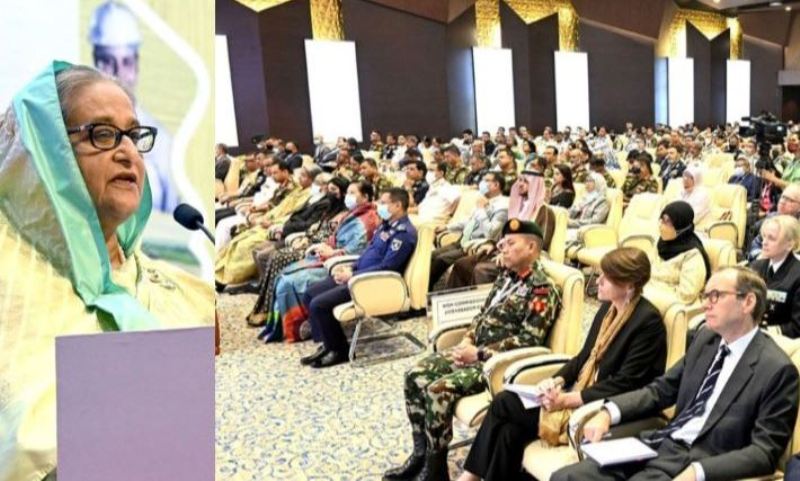 PID
Please stop Russia-Ukraine war: PM Hasina to world leaders
Dhaka, November 29: The prime minister reiterated the call to the world leaders to stop the ongoing Russia-Ukraine war, citing the consequences of any war and the horrors and losses.
Recalling the Great Liberation War of 1971, she said, "We understand the loss of war and conflict. That's why I call on world leaders, please stop the Russia-Ukraine war."
Sheikh Hasina said, "Any war-conflict can be resolved through political discussion. We don't want any war. We do not want any people to become refugees. Because, I have all the experience."
She said these things at the International Women Peace and Security (WPS) Seminar-2022 at Army Multipurpose Complex in Dhaka Cantonment on Monday (November 28) morning. The seminar was held under the overall supervision of the Department of Armed Forces.
The Prime Minister said that the plight of women increases manifold during any conflict and disaster. During the speech in this seminar on women's peace and security, the head of government recalled the experience of loss in the great liberation war in 1971. Meanwhile, highlighting the various initiatives of the government to empower women in Bangladesh, the Prime Minister said that if there was no empowerment, the position of women in the society would not have increased.
She said, "My government has formulated the Women's Policy 2011. Under that policy, we have taken measures to ensure the development and active participation of women in mainstream socio-economic activities and remove all barriers to their empowerment. Politics, administration, education, business, sports, armed forces. etc. Their participation and contribution in the sector has changed the socio-economic scenario of Bangladesh."
The prime minister said that the participation of women in socio-economic and political activities has improved gender equality in Bangladesh. She said Bangladesh is at the top position in terms of gender equality among South Asian countries. Bangladesh is a role model for women's participation in peacekeeping, peace-building, disaster management and countering violent extremism.
The head of government also said, "It was my government that opened the door for the appointment of women in the armed forces for the first time in 1996. Currently, Bangladeshi women are at the top of the UN peacekeeping mission. So far, a total of 704 women peacekeepers of the Bangladesh Armed Forces have participated in UN peacekeeping operations. Currently, 373 women members are in various peacekeeping missions. engaged in a mission."