Bangladesh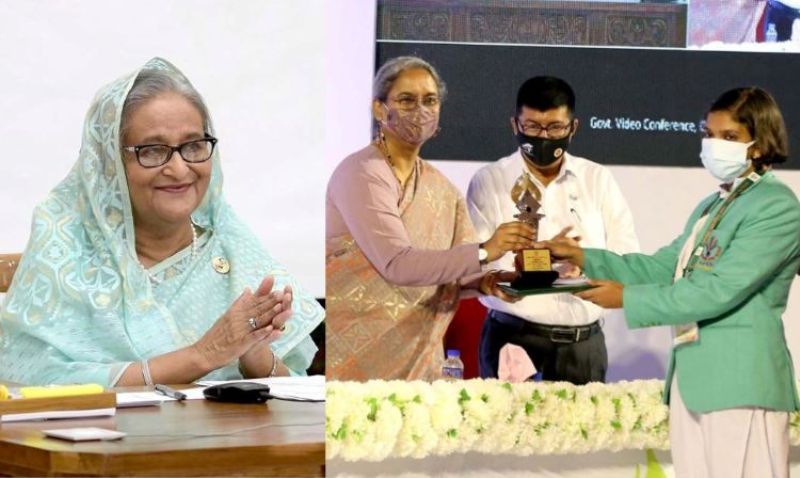 Photo: PID
PM asks the new generation to be ready to take Bangladesh on the path of prosperity
Own Correspondent, Dhaka, June 27: Prime Minister Sheikh Hasina has called upon the new generation to take the country forward by enriching them with knowledge in science, technology and research, and preparing for leadership in the future.
The Prime Minister said, "Our sons and daughters, be ready to lead the country in the future. In all cases, you will develop your talent and take the country forward. So that Bangladesh does not lag behind, Bangladesh moves forward and our sons and daughters become more advanced in the power of innovation."
She was speaking as the chief guest at the award distribution ceremony of 'Bangabandhu Creative Talent Exploration Competition-2022' on Sunday. The Prime Minister virtually joined the event organized by the Ministry of Education at the auditorium of the International Mother Tongue Institute at Segun Bagichar in the capital via video conference from Ganobhaban.
Sheikh Hasina said today's children will be the leaders of this country in future. They will be prime ministers like me, ministers, teachers, big officials and will improve the country by engaging in various professions including administration and journalism. So, let them be made that way.
"You have to keep pace with the times and keep pace with the developments in technology and science," she said.
She emphasized on research in various fields including agriculture, science and health, saying that only research can show the way in this regard. "I believe that today's intelligent and talented children will take the future Bangladesh forward."
On the occasion, Bangabandhu Creative Talent Exploration Award was given to 15 meritorious people of the country in three groups in five subjects including Language-Literature, Daily Science, Mathematics and Computer, Bangladesh Studies, and Bangladesh Studies and Liberation War (for students with special needs only).
In April-May this year, competitions were organized at the institutional, upazila, district, divisional and national levels. At the divisional level, out of a total of 132 participants, judges have selected 15 as the best meritorious students of the year.
On behalf of the Prime Minister, Education Minister Dr. Dipu Moni handed over the prizes to the winners. As a reward, each was given a cheque of Tk 2 lakh, crest, medal and certificate.