Bangladesh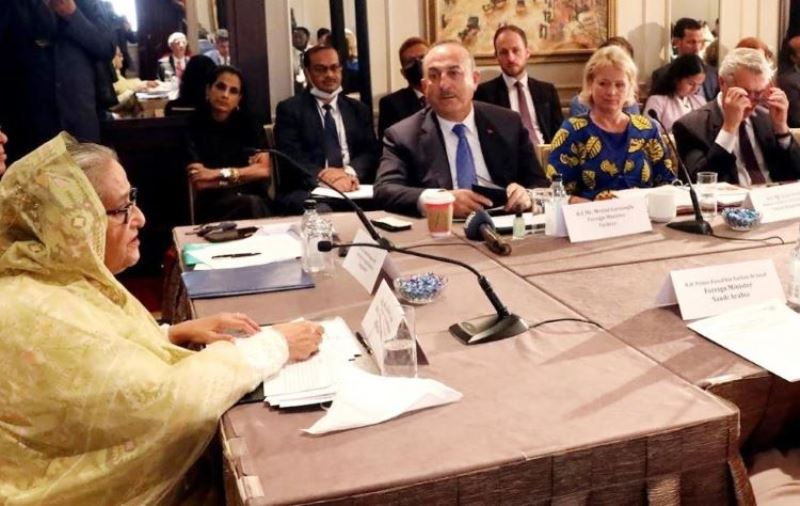 Photo: PID
PM calls for specific steps to be taken to repatriate Rohingyas
Own Correspondent, Dhaka, Sept 23: Prime Minister Sheikh Hasina called on the United Nations to take concrete steps for sustainable Rohingya repatriation. She made the call while addressing a high-level side event on the Rohingya issue in New York on Thursday.
The Prime Minister said that the attention of the international community is gradually shifting towards Myanmar's new global and internal conflicts, which is delaying Rohingya repatriation. The UN and international partners need to take concrete steps and projects to create an enabling environment for the sustainable repatriation of the Rohingya.
She also supported the Gambia in the International Court of Justice, International Criminal Court, and ICJ in order to enforce international law for a permanent solution to the Rohingya crisis and to strengthen the fight against human rights violations in Myanmar. Greater efforts should be undertaken to fully implement the recommendations of the Kofi Annan Advisory Commission. Their meaningful presence as civilian observers will increase confidence in the voluntary return of the Rohingyas.
Sheikh Hasina said Bangladesh is looking forward to its strong role in ensuring sustainable repatriation of Rohingyas to their homeland and ensuring peace and justice for the people of Myanmar. The world is now witnessing new conflicts emerging and unfortunately, the world's attention is slowly shifting away from both a political solution to the Rohingya crisis and meeting its growing humanitarian needs.
She added that as of August 2022, only 48 percent of the USD 881 million appealed under JPR 2022 has been funded. At the same time, we are deeply concerned about the adverse impact of the recent internal conflict in Myanmar as this may further hinder their chances of initiating repatriation.
The Prime Minister said that the total number of forcibly displaced Myanmar nationals (FDMN) who have taken refuge in Bangladesh today is about 1.2 million. "The prolonged presence of Rohingyas in Bangladesh has posed a great challenge to our development. We have to spend about 1.22 billion USD every year for the Rohingyas. This has resulted in the loss of biodiversity, loss of nearly 6,500 acres of forest land, and the adverse impact on the local population is immeasurable."