Bangladesh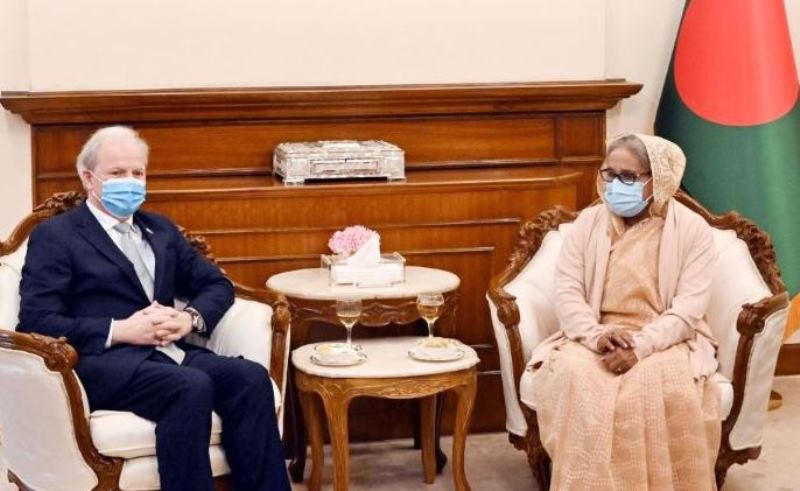 Photo: PID
PM emphasizes on global assistance to overcome crises of developing countries
Dhaka, January 24: Prime Minister Sheikh Hasina has called on the World Bank and other international organizations to help developing countries like Bangladesh overcome the crises caused by the Covid-19 pandemic and the Russia-Ukraine war.
She said, "Help developing countries like Bangladesh to deal with the crisis caused by the Covid-19 pandemic and the Russia-Ukraine war."
Hasina said this when World Bank Managing Director Axel van Trotsenburg paid a courtesy call on her at the PMO on Monday.
After the meeting, Prime Minister's speech writer Md. Nazrul Islam briefed the journalists.
The MD of the World Bank described the development of Bangladesh as 'incredible' and assured to stand by Dhaka in the course of development.
He said, "We have been with Bangladesh since 1972 and will continue to support the country's development efforts."
The MD of the World Bank praised the comprehensive development of Bangladesh under the visionary leadership of Prime Minister Sheikh Hasina. He said that the main purpose of his visit to Bangladesh is to strengthen the existing relationship between the World Bank and Bangladesh.
Prime Minister Sheikh Hasina said that the per capita income of the people of Bangladesh was only 50 US dollars, but now it has increased to 2,824 US dollars.
She said that developed countries are mainly responsible for the harmful effects of climate change. She also urged to fulfill their commitments to pay to the climate fund, but developed countries are not keeping their commitments properly.
The Prime Minister outlined what her government is doing to overcome the challenges arising from the effects of climate change.
The head of government said that due to the maintenance of political stability, her government has been able to develop Bangladesh rapidly in the past 14 years and is continuing its tireless efforts to provide a beautiful and prosperous life to the countrymen as per the dream of Father of the Nation Bangabandhu Sheikh Mujibur Rahman.