Bangladesh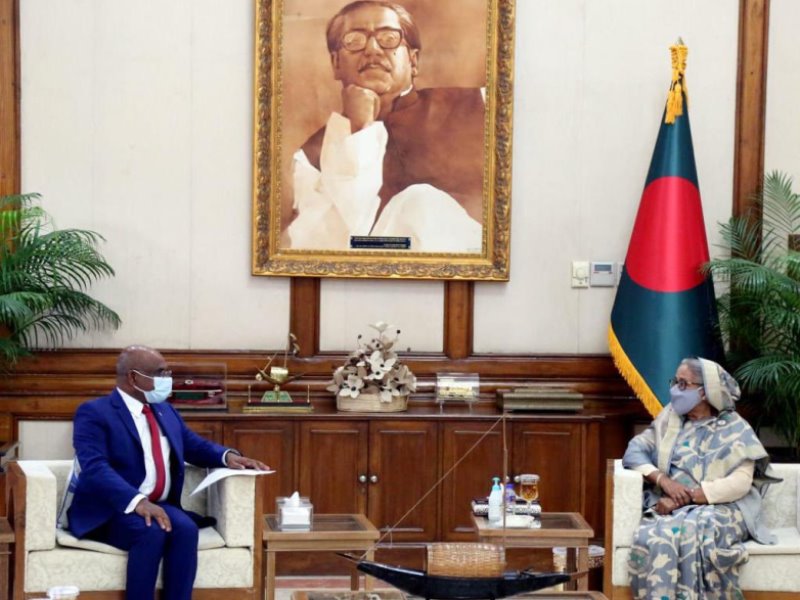 twitter.com/abdulla_shahid
PM Hasina assures Maldives of all cooperation in tackling climate change
Dhaka, February 11: Prime Minister Sheikh Hasina has assured all possible cooperation in tackling climate change in the Maldives. She made the assurance while paying a courtesy call on visiting Maldivian Foreign Minister Abdulla Shahid at Ganobhaban on Wednesday.
Later, the Assistant Press Secretary to the Prime Minister. M. Imrul Kayes said that as the President of the Climate Vulnerable Forum (CVF), Sheikh Hasina assured that Bangladesh would extend all possible assistance to the Maldives in tackling the adverse effects of climate change.
At the time, the Prime Minister said Bangladesh is now formulating and implementing its own 'mitigation' and 'adaptation' plans to address the adverse effects of climate change.
The Maldivian Foreign Minister expressed his interest in legalizing undocumented Bangladeshis living in the country, the press secretary said. He told the Prime Minister that all Bangladeshis living in the Maldives would be given free Covid-19 vaccine.
On Tuesday, the Prime Minister expressed satisfaction over the signing of two Memoranda of Understanding (MoUs) between Bangladesh and the Maldives.
Establishing a strong framework between the two countries for recruitment of manpower from Bangladesh and the second memorandum is the agreement between the Foreign Service Institute of Maldives and the Foreign Service Academy of Bangladesh on cooperation on training of foreign service officers of the two countries.
Abdulla Shahid also lauded the leadership of the Prime Minister for her outstanding development and achievements in various sectors of Bangladesh. He said the Prime Minister of Bangladesh is a very important leader not only in Bangladesh or South Asia but also for the whole world.
The Foreign Minister thanked Prime Minister Sheikh Hasina for inviting the President of Maldives to take part in the celebrations of Bangladesh Independence Day and Mujib Year celebrations. Paying homage to Father of the Nation Bangabandhu Sheikh Mujibur Rahman, he said Bangabandhu is a great leader not only of Bangladesh but of the whole world.
The Maldivian Foreign Minister expressed his gratitude to Bangladesh for providing medical assistance to the Maldives in tackling the Covid-19 pandemic.