Bangladesh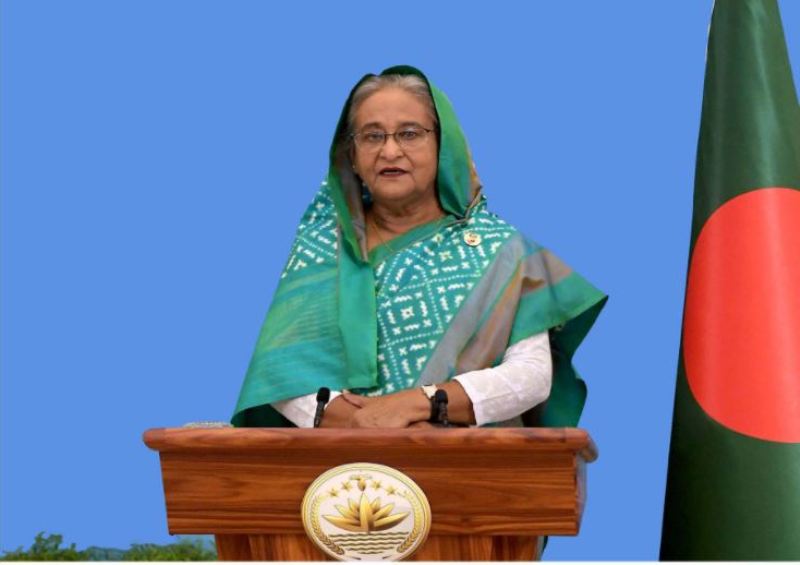 PID
PM Hasina calls for emphasis in three areas to address the post-epidemic challenges
Dhaka, December 4: Prime Minister Sheikh Hasina has called for more global cooperation, including ensuring universal and equitable access to quality vaccines against coronavirus, transferring technology to developing countries in vaccine production and providing financial assistance to address post-epidemic challenges.
He was speaking at the 31st Special Session of the United Nations General Assembly (UNG) on Friday (December 4th) in the wake of the Coronavirus pandemic. The current chair of the Non-Aligned Movement (NAM), Azerbaijan, and the UN Secretary-General have convened a two-day special session starting on Thursday (December 3rd).
Sheikh Hasina said, "Some priorities need urgent attention and more cooperation. First, we need to ensure that everyone receives quality vaccines in a timely and equitable manner."
She added, "The 2030 Development Agenda recognizes the fundamental role of universal health coverage in achieving the SDGs driven by the principle of equality. Similarly, when it comes to getting a vaccine, it would not be appropriate to leave anyone behind. It will help us defeat the epidemic, save lives and accelerate economic recovery."
Secondly, referring to the coronavirus vaccine as a "global commodity" for the whole world, Sheikh Hasina said that the WHO Act and the Covax Initiative could play an important role in this regard.
She said developed countries should be committed to transferring technology for vaccine production locally to developing countries using the IP rights waiver under the TRIPS agreement. Bangladesh has the capacity and is ready to develop vaccines if given the opportunity.
As a third area, the Prime Minister said the challenges facing developing countries, including financial assistance, in the wake of the Corona epidemic should be given special recognition. National governments as well as the United Nations, the IFI, and civil society must fulfill their respective responsibilities and actively co-operate with each other in tackling the Coronavirus pandemic.
"The Coronavirus pandemic has devastated health systems and economies around the world," he said. If not controlled everywhere, this virus can never be brought under control in any one place. Let's renew our commitment to the 2030 Agenda for a Sustainable World, where our next generation will be able to deal with future epidemics."
Expressing hope that the UN session would strengthen joint action, global solidarity and multilateral cooperation in tackling the Coronavirus pandemic, Sheikh Hasina assured that Bangladesh was ready to work with all in this global effort.