Bangladesh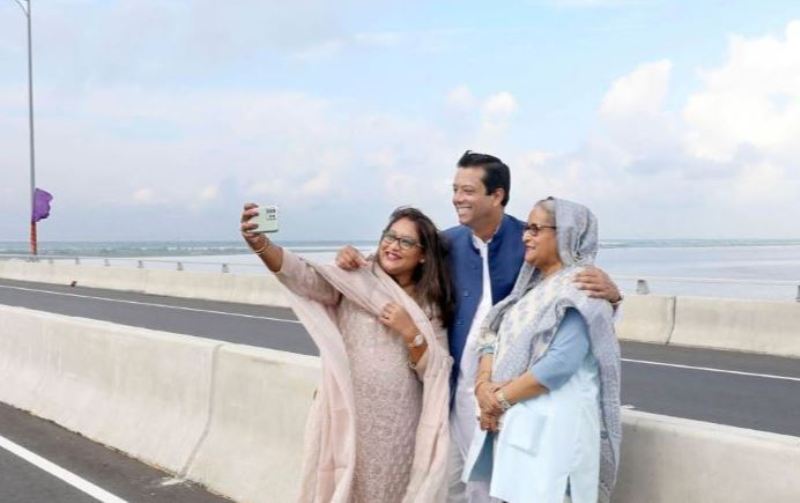 PID
PM Hasina clicks selfie with daughter Putul at Padma Bridge
Dhaja, July 5: Accompanied by son Sajeeb Wazed Joy and daughter Saima Wazed Putul, Prime Minister Sheikh Hasina visited Tungipara in Gopalganj by road across the Padma Bridge. This is the first visit of the Prime Minister to her ancestral home by crossing the Padma Bridge with her children. She entered her ancestral home at 11:40 a.m. on Monday (July 4).
Earlier, the Prime Minister left Ganobhaban for Tungipara at 8:00 am. Then at 8:48 am she reached the Padma Bridge toll plaza at Mawa Toll Plaza.
Sheikh Hasina spent some time in the middle of the bridge with her children. At that time, Prime Minister Sheikh Hasina took a selfie with her son and daughter. Sajeeb Wazed Joy posted the photo on his own verified Facebook page around 12:30 pm.
At around 9:15 am, the Prime Minister went to the Jazira end and stood there for some time in front of the plaque. She then rested for about 40 minutes at Service Area-2 on the Jazira side. The Prime Minister left for Tungipara at 10:15 am.
After reaching Tungipara, the Prime Minister paid homage to Bangabandhu Sheikh Mujibur Rahman by laying a wreath at his grave. She then took part in Fateha recitation and special munajat seeking the forgiveness of the souls of the martyred members of Bangabandhu and his family.
On the occasion of the visit of the Prime Minister, there was excitement among the leaders and activists and the locals in Tungipara. Both sides of the road are cleaned. Bangabandhu's mausoleum was decorated. Besides, the road leading to Patgati Ghatla, built on the Madhumati river, had been renovated. On the other hand, three levels of security measures were taken by the police administration.
A large number of members of the law enforcement force were also deployed.