Bangladesh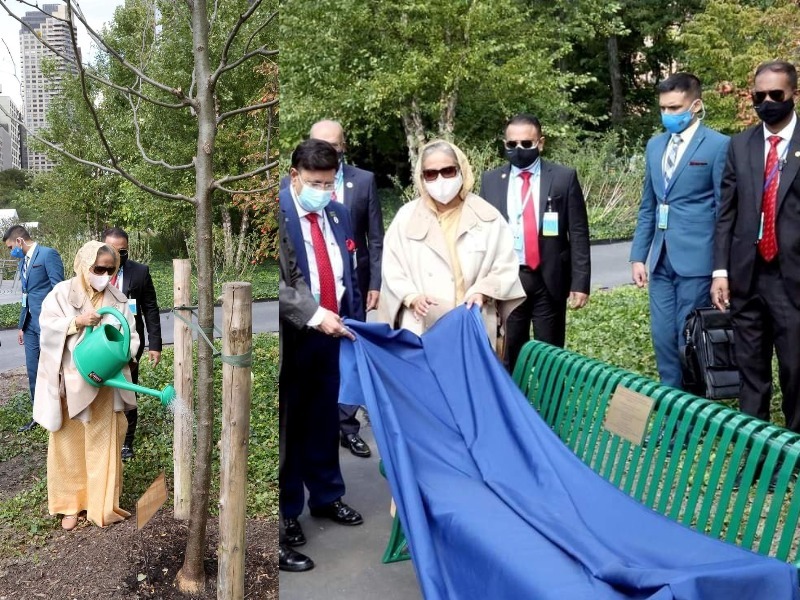 PID
PM Hasina plants tree, dedicates bench at UN North Lawn garden to mark Mujib Borsho
Dhaka, September 21: Prime Minister Sheikh Hasina on Monday planted a tree and dedicated a bench in the North Lawn garden of the UN headquarters on the occasion of the birth centenary of Father of the Nation Bangabandhu Sheikh Mujibur Rahman at 11:30 am local time in New York. At this time, she expressed hope that this tree will also survive for a hundred years and carry the message of peace.
"The Father of the Nation had always fought for peace. His struggle was to change the destiny of poor people. He spoke of the poor people of Bangladesh as well as the people of the world suffering from hunger and poverty, exploited and deprived," Prime Minister Hasina said.
"Friendship with all, enmity with none- that was his goal. Because, it will bring peace and he was in search of peace. He had fought for peace and without peace no country can ever prosper.
"We understand very well that improvement is possible only in a peaceful environment," she added.
"Today, a tree has been planted here. Bangladesh was recognized by the United Nations in September (September 17) and was followed by Father of the Nation Bangabandhu Sheikh Mujibur Rahman's speech here in Bengali on September 25. So, we planted the tree and dedicated a bench here in the month of September," the Prime Minister added.
The Prime Minister further said that just as trees protect the environment, they also provide food and shade to the people and also save human life. Prime Minister Hasina thanked the expatriate Bangladeshis, including the UN Under Secretary and Permanent Representative of Bangladesh to the UN, for this.
Earlier in the day, the Prime Minister attended a closed-door meeting on climate change with the participation of heads of countries. She arrived in New York on Sunday via Helsinki, Finland, to attend the 76th session of the UN General Assembly.