Bangladesh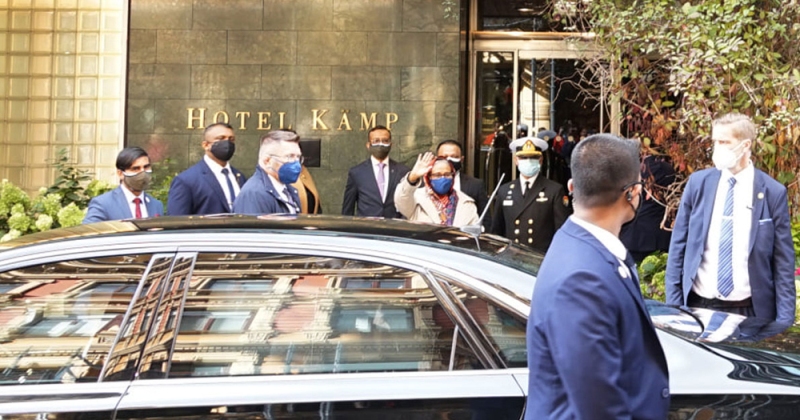 Collected
PM Hasina reaches New York from Helsinki to attend UN session
Dhaka, September 20: Prime Minister Sheikh Hasina left Helsinki on Sunday afternoon on her way to New York to attend the 76th session of the UN General Assembly after a visit to Finland. Bangladesh Ambassador to Finland Md. Nazmul Islam bade farewell to the Prime Minister at the airport.
A VVIP Chartered Flight (BG-1902) of Biman Bangladesh Airlines left Helsinki-Vantaa International Airport for New York at 4:16 pm local time with the Prime Minister and her entourage. Prime Minister's Press Secretary Ihsanul Karim said this.
She arrived at New York's John F. Kennedy International Airport at 6:00 pm, New York, USA, on the same day. Earlier on Friday, the Prime Minister left Dhaka for New York via Helsinki to attend the 76th session of the United Nations General Assembly (UNGA). On her way to New York, Sheikh Hasina had stopped in Helsinki for two days.
This is her first foreign trip in a year and a half since the Prime Minister's visit to Italy in February 2020.
The Prime Minister will be in New York from September 19 to 24 as part of an official visit to attend the UN General Assembly session and a number of high-level events there. During her stay in New York, Sheikh Hasina will address the 76th Session of the General Assembly on September 24 at the UN Headquarters. Following the historic speech of Father of the Nation Bangabandhu Sheikh Mujibur Rahman at the United Nations in 1974, the Prime Minister will deliver her speech in Bengali this time as in previous years.
On September 20, Sheikh Hasina will attend a closed-door meeting with a small group of heads of state and government on climate change at the invitation of UK Prime Minister Boris Johnson and UN Secretary General Antonio Guterres.
After her visit to the United States, Sheikh Hasina will leave Washington for Dhaka on September 30 and return home on October 1 after stopping in Helsinki.