Bangladesh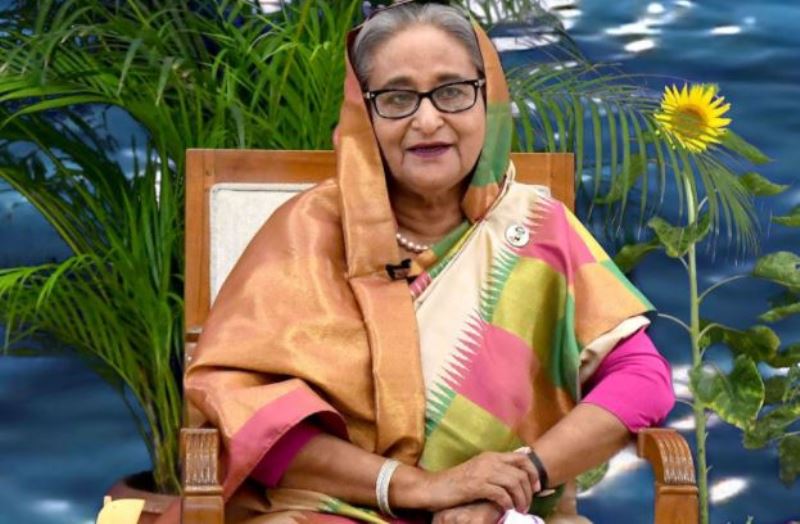 PID
PM Hasina wants G20 countries to play a "major role" in curbing carbon emissions
Dhaka, April 28: Prime Minister Sheikh Hasina has called on the G20 (Group of Twenty) countries to play a "major role" in curbing global carbon emissions and called for "strict implementation" of the Paris Agreement to protect the world from the adverse effects of climate change.
In an earlier statement issued at the inaugural ceremony of the two-day Foreign Policy Virtual Climate Summit on Tuesday, the Prime Minister also stressed the need for concerted efforts by all countries to get rid of the deadly Covid-19 virus. She said climate change is not limited to certain boundaries. If, emitted from one country, every country is also affected.
Sheikh Hasina opined that strict implementation of the Paris Agreement is the only way to prevent global carbon emissions and global warming. She said the time to take action to save the planet is not tomorrow, but today.
The Prime Minister said 100 countries are responsible for only 3.5 per cent (carbon) emissions of global low levels and G20 countries are responsible for 80 per cent.
She spoke in support of the US Alliance, but said that maintaining some independence was important for the United States.
"We also appreciate the decision of US President Joe Biden and the holding of a summit of climate leaders last week," she said.
The Prime Minister opined, "We need a concerted effort to get rid of the deadly virus."
Referring to perhaps the most talked about issue of climate change after COVID-19, she said the issue has now become a huge threat to every country, especially to climate-weak countries like Bangladesh.
She said, "Countries like Bangladesh are constantly experiencing various natural calamities like severe floods, droughts, tidal waves, tidal surges, thunderstorms, etc. At present, heat wave is going on in my country."
Mentioning that one-third of the country was submerged due to heavy rains in Bangladesh last year, she said that apart from heavy rains in Bangladesh last year, several cyclones including Super Cyclone Amphan hit Bangladesh and all these natural disasters were due to climate change.
The Prime Minister said, "Bangladesh is not a carbon emitting country, and in fact not only Bangladesh, but no member state of the Climate Vulnerable Forum (CVF) is a significant carbon emitter. Nevertheless, we are the most affected by climate change. We am losing 2% of our country's GDP due to natural disasters."