Bangladesh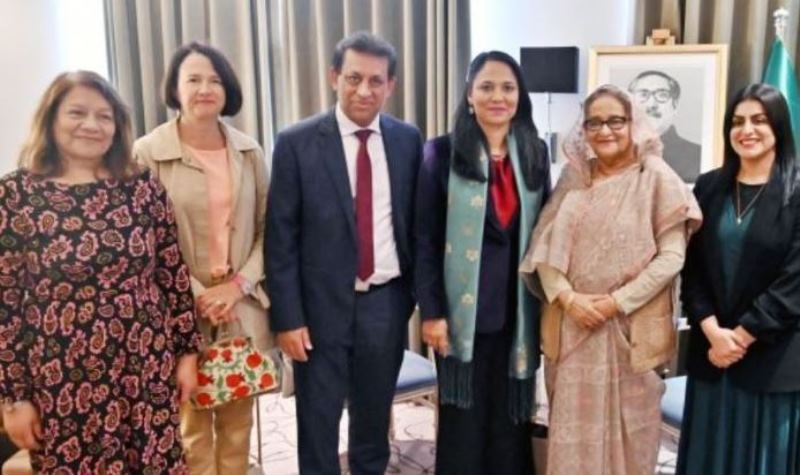 Photo: PID
PM pledges to continue democracy in Bangladesh at any cost
Dhaka, Oct 3: Reiterating the commitment to continue democracy in Bangladesh at any cost, Prime Minister Sheikh Hasina said that the next general election will be held in a free and fair manner.
She said, "Democracy must be continued in Bangladesh at any cost. In no way can undemocratic forces seize power."
She said this when members of the UK's All-Party Parliamentary Group on Bangladesh Affairs (APPG) went to meet Prime Minister Sheikh Hasina at the Taj Hotel in London on Monday. APPG Chair for Bangladesh and Rohingya Affairs and Shadow Minister for Investment and Small Business Rushnara Ali MP led the delegation.
Other members of the delegation were – APPG Vice Chairman Virendra Sharma, MP, Vice Chair Valerie Vaz, MP, Vice Chairman Imran Hussain, MP and Faisal Chowdhury MSP, Chair, Cross-Party Group of Bangladesh in the Scottish Parliament with members from Bangladesh.
Foreign Minister AK Abdul Momen said this in a press briefing after the courtesy meeting with the Prime Minister of Bangladesh. Sheikh Hasina said to the APPG delegation that they are committed to a free and fair election, all necessary reforms have already been done for this purpose.
The Prime Minister said that they have enacted a law for this purpose and constituted a new Election Commission (EC) through a search committee and given full administrative and financial independence to the EC to function independently to conduct free and fair elections.
She also said that in accordance with the proposal of her party Awami League while she was in the opposition party, voter lists with photos and transparent ballot boxes have been arranged for a free and fair election.
The APPG delegation expressed satisfaction with the present government's preparations to hold a free and fair election in Bangladesh.
Foreign Minister Momen said that Bangladesh has also offered to send election observers to the APPG delegation to supervise the upcoming general elections. All members of APPG highly appreciated the outstanding development of Bangladesh under the dynamic leadership of Prime Minister Sheikh Hasina.
Sheikh Hasina expressed her satisfaction with the existing bilateral relations with Britain and said that Bangladesh is doing various business with them and British investment in Bangladesh is increasing. Mentioning that 100 Special Economic Zones and 39 Hi-Tech Parks are being set up in Bangladesh, the Prime Minister expects greater investment from the UK, especially in renewable energy. He also proposed the UK to establish a dedicated economic zone in Bangladesh like South Korea, India and Japan.