Bangladesh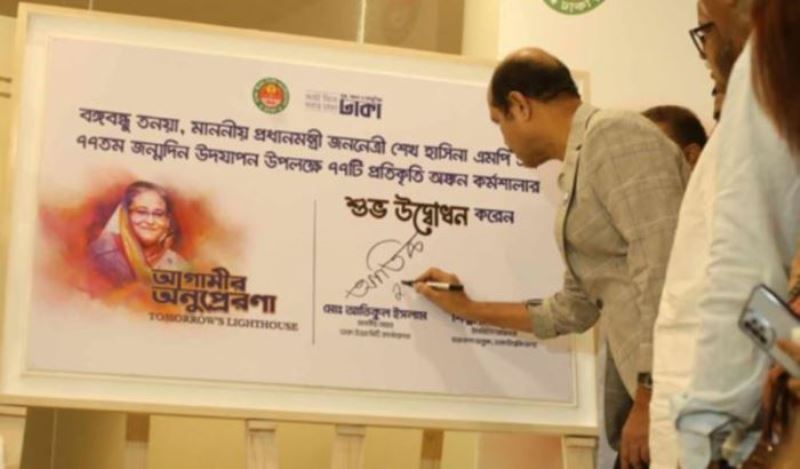 Photo: Collected
PM's 77th birthday on Thursday: North City to paint 77 portraits
Dhaka, Sept 25: Prime Minister Sheikh Hasina's 77th birthday will be on Thursday, September 28. On this occasion, 77 portraits of the Prime Minister were inaugurated by 77 painters. Mayor Atiqul Islam inaugurated the drawing of this portrait at Dhaka North City Corporation (DNCC) city hall on Sunday afternoon.
DNCC has organized this portrait drawing titled 'Inspiration of the Future'. The pictures will be displayed on the 6th floor of the Nagar Bhavan for seven days from September 28.
Mayor Md. Atiqul Islam said, this initiative has been taken to express our gratitude to the Prime Minister and to give inspiration to painters. Painters depict the country and society through paint. Painters make people aware through their work, create inspiration in people. Prime Minister is taking the country forward through his successful leadership and actions. Under the leadership of the Prime Minister, we got Padma Setu, Metrorail, Elevated Expressway, Karnaphuli Tunnel. I have taken the initiative of drawing 77 portraits on my birthday to express my gratitude to the Prime Minister.
Artist Moniruzzaman said, as 77 portraits are being drawn on the Prime Minister's 77th birthday, I am expecting to draw a hundred portraits on the birth centenary of the Prime Minister.