Bangladesh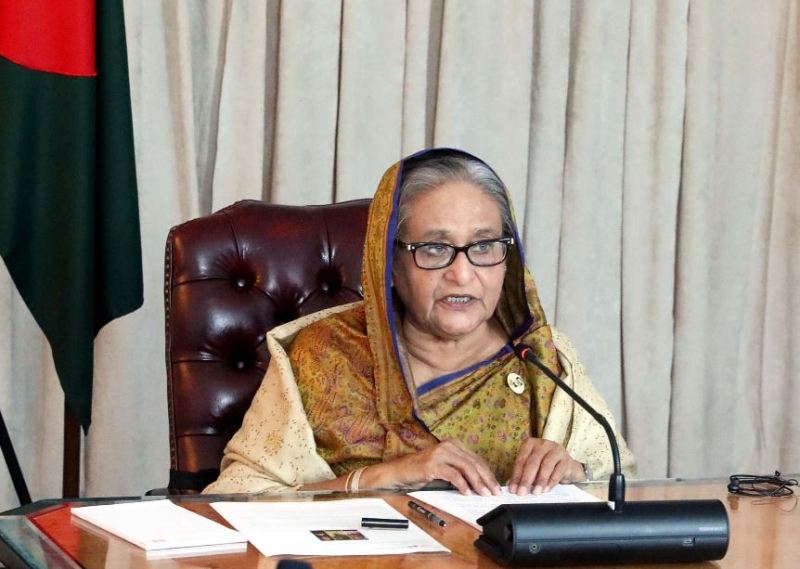 PID
PM Sheikh Hasina strengthen demands for Rohingya repatriation on 'urgent' basis
Dhaka, September 24: Prime Minister Sheikh Hasina has demanded that Rohingya repatriation be done on "urgent" basis, saying the inaction of major international powers on the issue of crisis has shocked Bangladesh. However, in spite of limited resources, Bangladesh gave shelter to the refugees considering the humanitarian aspect.
She was speaking at a high-level meeting with international partners on the sidelines of the UN General Assembly in New York. The Prime Minister is scheduled to address the UN General Assembly on September 24.
On the eve of her speech, a virtual meeting titled High-Level Side Event on 'Forcibly Displaced Myanmar Nationals (Rohingya) Crisis: Imperative for a Sustainable Solution' was held under the auspices of Bangladesh. Concerned officials said the meeting was organized as part of Dhaka's efforts to highlight the Rohingya crisis in this important general discussion of the General Assembly.
Prime Minister Sheikh Hasina said, "I have repeatedly said that they (Rohingyas) are citizens of Myanmar. So, they must return to their homeland Myanmar with security and dignity."
"The Rohingya crisis has become a matter of concern for regional and international security," she asserted. "Therefore, an urgent proposal needs to be made in this regard and I would like to emphasize that in this case, what we have done in Bangladesh is being done on a completely temporary basis."
The Prime Minister said since the Rohingyas fled to Bangladesh in droves in 2017, she has consistently presented various proposals to the UN General Assembly for a lasting solution to the crisis. "Our government maintains bilateral relations with Myanmar," she said.
Sheikh Hasina said, "In the regional field, we have tried to involve the major powers, including China and India, in resolving this crisis. We are constantly trying to keep ASEAN more active."
The Prime Minister suggested five-point international measures to resolve the crisis. In this case, first of all, it is 'necessary to make a strong effort of all of us on the basis of priority', she said.
Second, she said, international efforts are needed to change the political landscape in Myanmar to address the uncertainty of the repatriation process and to find a way to resolve the crisis.
Sheikh Hasina wants to see ASEAN's strong efforts in the current context. "We believe that ASEAN has an important role to play in this," she said. She hoped that given the current situation, their actions would have a profound effect on Myanmar.