Bangladesh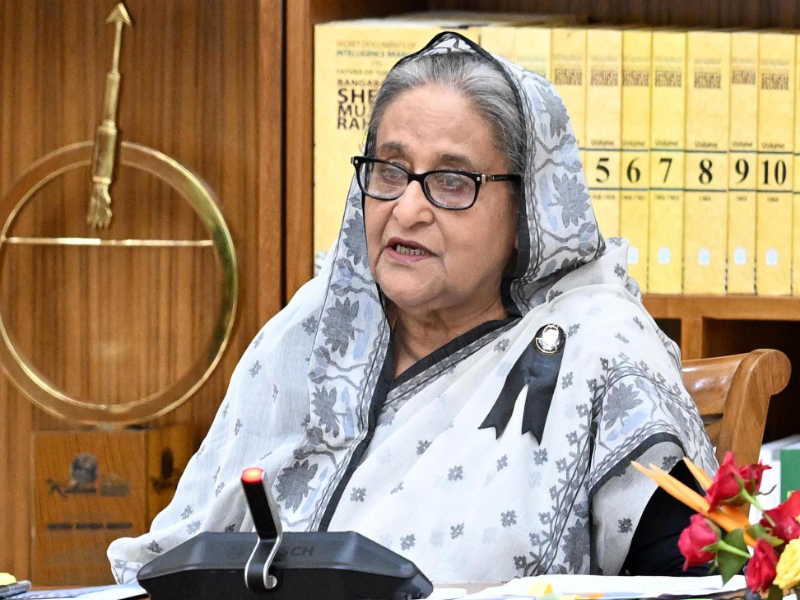 Photo: PID
PM wants to continue Bangladesh's development
Dhaka, August 21: Prime Minister Sheikh Hasina has said that her government wants Bangladesh's development and prosperity to continue.
She said, "We want to continue the progress of the country on the path of development despite facing natural disasters and man-made disasters like fire terrorism in Bangladesh".
Prime Minister Sheikh Hasina said this while inaugurating the newly constructed 15-storey 'Bangladesh Telecommunication Control Commission' (BTRC) building and 13-storey 'Information Commission Building' at Agargaon in the capital on Sunday, August 20. Besides, she also laid the foundation stone of the 'Bangladesh Film Development Corporation' (BFDC) complex by connecting virtually from her official residence Ganabhaban.
Mentioning that the goal of her government is to build this country beautifully and recalling the tragic episode of losing the father of the nation this month, the head of government said, "I am grateful to the people of the country for being able to successfully complete every work started by the father of the nation."
She said, "We have been able to do these works because the people have given us the opportunity to serve them by voting for our boat brand again and again. From 2009 to 2023, there has been a continuous democratic system of government in Bangladesh, stability is maintained in the country. However, in between we have to deal with natural disasters, man-made disasters and fires. But still Bangladesh is moving forward and we want this progress of Bangladesh to continue."
The Prime Minister said, "Today we have made digital Bangladesh and by 2041 we want to make this Bangladesh a 'Smart Bangladesh'. There we will have smart population, smart economy, smart society, smart government and every sector will be smart."
She said keeping that goal in mind, her government has taken steps to build the people, society and country with modern technology knowledge in all fields.
"Inshallah we can do it successfully. There will be no hunger and poverty in Bangladesh, no people will suffer, every landless person will get a house, every person's life quality will improve," she added.
After laying the foundation stone of BFDC complex and inaugurating the spectacular BTRC building built on one acre land and the Information Commission building on 0.35 acre land, Sheikh Hasina said, "Whenever we undertake any development initiative, we see that Father of the Nation Bangabandhu Sheikh Mujibur Rahman laid the foundation. Today's Bangladesh is moving towards development depending on the foundation built by Bangabandhu."