Bangladesh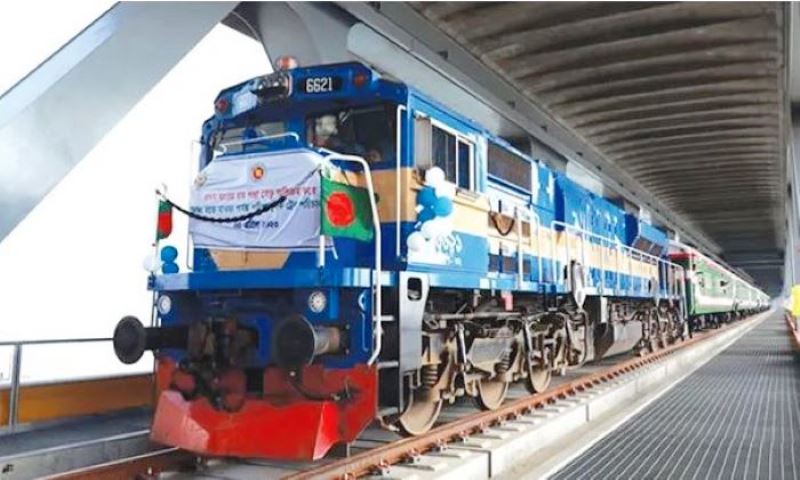 File photo
PM will cross Padma Setu by train to join public meeting in Faridpur
Dhaka, Sept 26: Prime Minister Sheikh Hasina will inaugurate the Dhaka-Bhanga railway on October 10. On this day, she will cross the Padma Bridge by train and join the public meeting at the Bhanga Stadium in Faridpur. Faridpur Deputy Commissioner Kamrul Ahsan Talukder said this on Monday night.
Meanwhile, Railway Minister Nurul Islam Sujan visited the Dr. Kazi Abu Yusuf Stadium in Bhanga Upazila Sadar of Faridpur, the venue of the Prime Minister's public meeting, on Monday evening. At that time Faridpur Deputy Commissioner, Superintendent of Police and other political persons were present.
During the visit, Nurul Islam Sujan said that on October 10, Prime Minister Sheikh Hasina will inaugurate train movement from Dhaka to Bhanga via Padma Bridge. After that, she will hold a press briefing at Bamankanda rail junction area of Bhanga Upazila. Later Prime Minister Sheikh Hasina will address a public meeting at Banga Dr. Kazi Abu Yusuf Stadium ground.
She also said that the Prime Minister will cross the Padma Bridge on this day by train. After that, train movement will officially start from Dhaka's Kamalapur station to Banga railway station. Earlier in the afternoon, a preparatory meeting was held in the conference room of the Deputy Commissioner's office on the occasion of the inauguration of the train service and the arrival of Prime Minister Sheikh Hasina in Bhanga.
Superintendent of Police Md. Shahjahan said in the meeting that all kinds of security preparations are being made for the arrival of the Prime Minister in Faridpur. The assembly area will be covered with a security sheet. Apart from this, the district police is also working on the security of all the people of the district and upazila coming to the gathering place.
Zilla Parishad Chairman Shahadat Hossain, District Awami League General Secretary Shah Md. Ishtiaq Arif, Sadar Upazila Chairman Abdur Razzak Mollas and heads of all departments of the district and upazila and leaders of Awami League and its affiliated organizations were also present in the preparatory meeting.