Bangladesh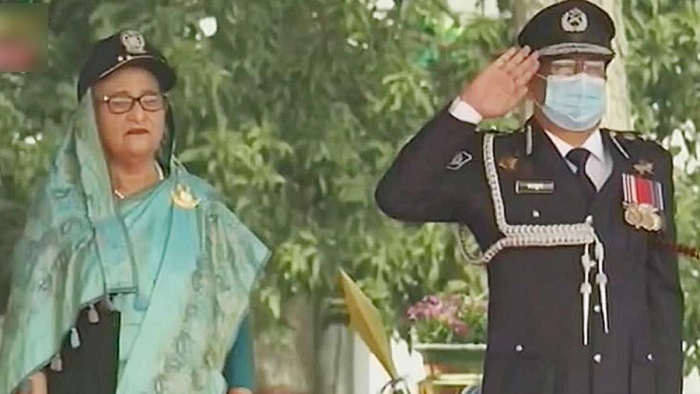 PID Bangladesh
Police should perform their duty honestly: Hasina
Dhaka, 29 January 2023 : Prime Minister Sheikh Hasina has called upon every member of the Bangladesh Police Force to perform their duties with efficiency and dedication.
She said, "First of all, the police force has to gain the trust of the people. Because the role and cooperation of the people is necessary in combating militancy and terrorism."
She said this while speaking as the chief guest at the closing parade of the 38th BCS (Police) Cadre trainee Assistant Superintendents of Police (ASP) at Bangladesh Police Academy in Sarda, Rajshahi on Sunday (January 29).
The Prime Minister said the country of 2041 will be a 'Smart Bangladesh'.
"Smart citizen, smart economy, smart government and smart society, smart education system will be developed. Bangladesh Police should also be developed as a smart police. For this, the government will ensure all kinds of facilities to the police force," she said.
Appreciating the role of the police in preventing cybercrime, the Prime Minister said that the government has built a digital Bangladesh.
"People of the country are now getting digital services. But just as it has its good sides, it also has many bad sides. Cybercrime, fraud, militancy using digital platforms is on the rise. The police force is working to prevent these crimes," she said.
She said that National Emergency Service of Police Force has gained great popularity among the people of 999 countries.
"People are getting fast service by calling this number. In case of danger they get immediate police services. As a result, their confidence in the police is increasing. This service is playing an important role as an immediate measure in the prevention of violence against women and suppression of terrorism," she said.
Sheikh Hasina said that the Awami League government is working for the development of the country for three consecutive terms. It has developed the country's infrastructure through various mega projects including Padma Bridge, Metro Rail, Rooppur Nuclear Power Plant. No one can keep Bangladesh in check. The government is working to make Bangladesh's image brighter in the world.
However, a group has risen up to push Bangladesh back again, she said, a group has stood in the way of Bangladesh's progress through murder, looting, arson, militancy.
The police force is working professionally to fight against those arsonists, bombers and militants. Even during the pandemic, the police force risked their lives to serve people. When even his relatives were not burying the deceased due to Corona, the policemen went ahead.